Zillow recently unveiled its Coming Soon feature, a forward-thinking initiative that lets real estate professionals advertise exclusive property listings up to 30 days before they are loaded into the MLS. While other companies in our industry may react to this disruptive move with fear and resistance, Pacific Union is choosing to test Zillow's program and determine whether we can leverage it to our clients' advantage.
According to Zillow's own data, its website has 81 million monthly unique users, and traffic has grown by 50 percent since January. This is a huge community of consumers viewing homes for sale and an amazing opportunity for Pacific Union to test the quality of Zillow's traffic. We do not yet know if Zillow's user base consists of qualified buyers or simply consumers looking for remodeling ideas or viewing dream homes they likely cannot afford.
Subverting the MLS
With the Coming Soon program, Zillow has stepped in front of the MLS to fill a void in the industry and give consumers, as well as some real estate professionals and brokers, what they have been wanting. While some MLS operators share premarket listings privately with paid subscribers, none of them publicly display such listings.
If Zillow's unique users are indeed qualified homebuyers, this move could be a wake-up call to MLS operators that to stay relevant, they must deliver what consumers and their members want rather than making decisions based on preserving their perceived control in the industry. This includes embracing technology that homebuyers and sellers describe a need for – like the Coming Soon listings.
Coming Soon listings may prove to have a particularly large impact in highly competitive real estate markets like the Bay Area. If Zillow's traffic consists of serious homebuyers, real estate professionals will gain the ability to actively market their properties before uploading them to the MLS, which have many "rules" in place designed to maintain industry control instead of meeting market demand.
Qualified buyers, meanwhile, will have advanced time to research a home and prepare an offer, crucial ingredients to success, since many Bay Area homes go under contract as soon as they hit the market.
How We're Approaching Zillow's Coming Soon
Pacific Union believes that if Zillow's traffic indeed comes from qualified buyers, giving our real estate professionals and their clients the ability to market homes before they are listed on the MLS is tremendously beneficial and represents yet another tool to help them succeed. To that end we're implementing a technology interface in early August that will allow our professionals to seamlessly upload pre-MLS listings to Zillow's Coming Soon offering at no cost.
Pacific Union primarily will be testing the quality of Zillow's unique users. If the Coming Soon feature generates qualified buyers and closed escrows, we will value the service.
While technology will doubtlessly play a key role in our industry moving forward, we do not believe it can replace or remove the trust, knowledge, and advice that a Pacific Union real estate professional offers clients.
For example, Zillow's Zestimates for eight of the nine Bay Area counties receive just two-star accuracy ratings and only come within 10 percent of the sales price about half of the time. And in San Francisco County Zillow's margin for error comes in as high as 12 percent. Therefore, it remains clear to Pacific Union and our clients that the Zestimate is not currently a credible industry tool.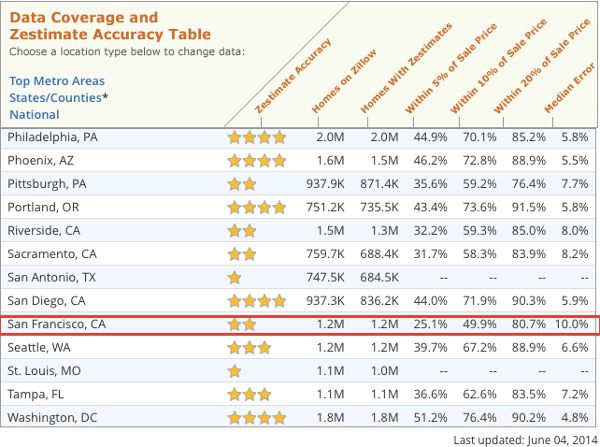 By contrast, seasoned real estate professionals can predict a home's value with a much higher degree of certainty, as they provide a level of trusted local knowledge and expert neighborhood advice that a website simply cannot replicate.
Zillow's Coming Soon feature is just the latest in a line of technology innovations designed to propel our industry forward. As technology continues to alter the way real estate professionals and brokerages do business, Pacific Union will evaluate each new innovation carefully and adopt the ones that we feel deliver the largest benefits to our clients.
We will know shortly if Coming Soon is a valuable industry innovation and whether Zillow's huge user base really contains serious homebuyers.
– Mark A. McLaughlin, CEO, Pacific Union