Here's a look at recent news of interest to homebuyers, home sellers, and the home-curious: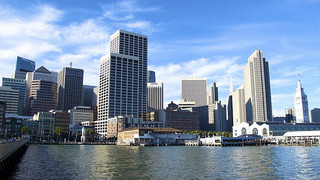 URBAN HOME VALUES RISING FASTER THAN THOSE IN SUBURBS
City homes across the country are appreciating at a slightly higher rate than those located in the suburbs, according to a Trulia study. Analyzing housing data from 20 Case-Shiller metropolitan areas, Trulia found that year-on-year home prices for the period ending May 2013 increased an average of 11.3 percent in cities versus 10.2 percent in suburbs.
However, the Bay Area was one of just four regions where the overall trend was reversed, with suburban home prices outpacing their urban counterparts by 2.5 percent. According to our May Real Estate Update, though median home prices in San Francisco recently topped $1 million for the first time in five years, the most robust year-over-year appreciation took place in Napa County, where median prices rose 42 percent.
---
PENDING SALES HIT HIGHEST PEAK SINCE 2006
The National Association of Realtors' Pending Home Sales Index, which tracks homes under contract but not closed sales, has hit its highest levels in nearly six-and-a-half years.
In May the index climbed to 112.3, the largest number seen since December 2006, when it hit 112.8. The index moved upward 6.7 percent from the previous month and 12.1 percent from May 2012. Western states saw the most dramatic monthly gains, at 16 percent, though scarce inventory translated to a year-on-year increase of only 1.1 percent.
NAR Chief Economist Lawrence Yun attributed the index's increase in part to rising mortgage interest rates.
"It appears some of the rise in contract signings could be from buyers wanting to take advantage of current affordability conditions before mortgage interest rates move higher," Yun said.
---
CALIFORNIA ASSOCIATION OF REALTORS PONDERS POCKET LISTINGS
The California Association of Realtors recently released a document that offers an overview of the pluses and minuses of so-called "pocket listings"— homes that sellers didn't advertise via MLS. CAR estimated that pocket listings may account for up to 15 percent of homes currently on the market.
According to CAR, the cons of not listing a home on the MLS outweigh the pros. The report notes that the main downside of pocket listings is that they lack the visibility of homes for sale via the MLS, thereby reducing the number of potential offers and the seller's chance to score a higher price. The association cited a recent survey of Bay Area real estate agents, in which 74 percent of respondents believed that pocket listings decreased the seller's chance of getting the best price.
So why would any seller choose to keep a home off the MLS? The report states that the main advantages of pocket listings are that they protect the seller's privacy and limit the home's exposure to only buyers who can afford it.
---
INTERNATIONAL HOMEBUYER SPENDING LEVELS DOWN FROM LAST YEAR
A National Association of Realtors survey reveals that, though sales of U.S. homes to international buyers declined over the past year, the slowdown likely won't last.
Overseas buyers pumped more than $68 billion into the U.S. residential real estate market for the 12 months ending in March, representing about 6 percent of all sales. Though international transactions decreased in value nearly 17 percent from the previous year, they are still up slightly from their 2011 levels.
NAR President Gary Smith blamed a number of factors for the decline, including the challenging economic situation in Europe and low housing inventory levels in the U.S. "However, none of these factors appear to be permanent," Smith said.
Canadian, Chinese, and Mexican citizens accounted for more than 40 percent of international buyers, and the report notes that all three groups frequently shopped in California.
---
ARTWORK DURING STAGING: SHOULD IT STAY OR SHOULD IT GO?
Art appreciation is all a matter of individual taste. While a Jackson Pollock painting may look masterful to some people, others might consider it an eyesore. The Wall Street Journal recently weighed in on the conundrum that some sellers face when putting their homes on the market: whether to let the art collection hang or whether to stash it out of sight.
According to the article, sellers and real estate professionals might want to consider removing an art collection if it's too large, contains potentially offensive works, or could distract would-be buyers. However, if the artwork flatters the home's layout and matches the target buyer profile, it could prove beneficial.
"If it's a beautiful collection and it fits the architecture of the home, and it fits the demographics of the person who is buying, then it's a must," said Shell Brodnax, Real Estate Staging Association CEO.
(Photo courtesy of Markheybo, via Flickr.)