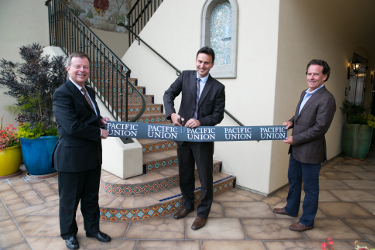 Pacific Union is pleased to share the news that we opened our flagship Silicon Valley office in Menlo Park on Thursday, April 24.
The office is located at 1706 El Camino Real, Suite 200. Pacific Union Vice President David Barca, a highly regarded leader in Silicon Valley real estate circles, will manage our team of elite professionals in the region.
Pacific Union's Silicon Valley team now includes Elyse Barca, Katharine Carroll, Kristin Cashin, Nathalie de Saint Andrieu, Ginna Lazar, Tom LeMieux, Carol MacCorkle, Geoffrey Nelson, Slava Polinkova, Jennifer Pollock, Carolyn Rianda, Doyle Rundell, Jason and Maya Sewald, Shane Stent, Amy Sung, and Deanna Tarr.
"We are excited to welcome these very successful and highly skilled real estate professionals to our team," Pacific Union CEO Mark A. McLaughlin said. "This new group is reflective of our very high standards of performance and professionalism, and we are looking forward to the energy they bring to the entire organization."
The opening marks our company's continued foray into Silicon Valley, one of the nation's hottest real estate markets. According to Pacific Union's just-released first-quarter real estate report, the median home sales price in the region was $2.6 million in March, the highest in the past 12 months. A lack of inventory is helping drive price appreciation; in March, the months' supply of inventory was the second lowest it has been in a year.
Menlo Park Mayor Ray Mueller joined Barca and McLaughlin on Thursday evening to participate in a ribbon-cutting ceremony for the new office. During the event Pacific Union also honored 11 nonprofit organizations from Menlo Park and Palo Alto, each of which received a $5,000 donation from the company.
The community nonprofits are: Collective Roots, East Palo Alto Tennis and Tutoring, Jennifer Kranz Research Fund/Lucile Packard Foundation, Las Lomitas Education Foundation, Menlo Park-Atherton Education Foundation, Music@Menlo, One Million Lights, Palo Alto Partners in Education, Peninsula Volunteers Rosener House, Sequoia Hospital Foundation, and St. Raymond School.