Mark A. McLaughlin, CEO of Pacific Union, has been named the recipient of the 2013 RISMedia Real Estate Leadership Award. McLaughlin accepted the award at RISMedia's annual Power Broker Dinner on Nov. 8, held in conjunction with the National Association of Realtors Conference & Expo in San Francisco.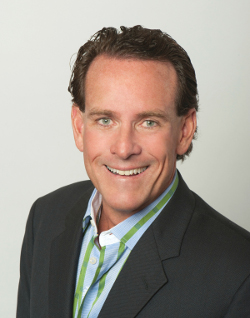 The national award recognizes a member of the real estate community who embraces innovation and exercises resilience to blaze new paths to success for real estate professionals and consumers alike.
"I am seriously humbled by this award, which goes to my team at Pacific Union as I am far more dependent on them than they are on me," said McLaughlin. "It's exciting for all of us to see our hard work recognized with this exceptional industry accolade."
Since McLaughlin took the helm of Pacific Union in 2009, the company has enjoyed exceptional growth. Sales volume more than doubled, market share increased by at least double digits in all regions served by the brokerage, and its 70 percent growth from 2010 to 2012 prompted the San Francisco Business Times to recognize Pacific Union as one of the Bay Area's 100 fastest-growing private companies. Pacific Union was one of only two real estate brokerages to make the list.
In addition, Pacific Union was included in the 2012 Inc. 5000 list — the only full-service real estate brokerage in the Bay Area to make the cut.
Pacific Union has established itself as an innovator in both marketing and technology. Earlier this year, the firm initiated a partnership with the America's Cup Challenger of Record, Artemis Racing, that created unprecedented opportunities for client engagement and spawned a jaw-dropping advertising campaign featuring images of the sailing team in action.
This month, Pacific Union unveiled a $650,000 custom-commissioned technology tool that with the touch of a button allows real estate professionals to offer clients a comparative market analysis that may be presented three ways: via a proprietary and fully interactive iPad app, on a secure website, or as a high-quality printed presentation.
Pacific Union is also the only Bay Area brokerage to fully fund and support an in-house digital media division staffed by journalists.
However, said McLaughlin, such innovation isn't a goal in and of itself; all of the company's trailblazing choices have been made with the fundamentals of client service in mind.
"Our business thrives on trusted relationships, knowledge, advice, and recommendations," he said. "We choose to make investments in technology and solutions that support these linchpins to our success and enable our real estate professionals to offer extraordinary service to their clients. Our results — and the RISMedia Leadership Award — are proof positive that while everyone says they're doing something different, we are actually executing on our vision."
Quick Pacific Union Facts:
25 offices
525 real estate professionals
2009 sales volume: $2.2 billion
2013 sales volume: $5.2 billion
No. 3 in U.S., 2012 average sale price (REAL Trends)
No. 3 largest real estate firm in the Bay Area, 2012 (San Francisco Business Times)
No. 5 in U.S., 2012 sales volume per associate (REAL Trends)
No. 18 in U.S., 2012 total sales volume (RISMedia)
No. 125 on U.S. Power Broker list (RISMedia)
Named to 2012 Inc. 5000 list