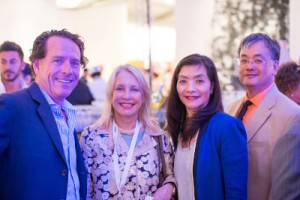 In a move that's certain to strengthen bonds between the luxury real estate sector and the fine-art world, Pacific Union partner Christie's International Real Estate (CIRE) recently sponsored the Art Miami fair. For the second straight year, CIRE was named Art Miami's "Official Luxury Real Estate Partner."
Now in its 24th year, 2013's Art Miami attracted a record 72,500 attendees — including collectors and art-world luminaries — and 400 members of the international press. CIRE's sponsorship of the early-December event enabled Pacific Union and other Christie's affiliates to showcase more than 14,000 luxury homes to the many high-net-worth individuals in attendance via a prominently located booth.
Given Christie's long heritage in the fine arts, CIRE's sponsorship was a natural fit.
"I was extremely pleased to have Pacific Union join us for this prestigious event," said Rick Moeser, CIRE senior vice president and regional manager of the company's Southeast U.S., Caribbean, and Latin America regions. "With our real estate network being the only one of its kind owned by a fine art auction house, we have a firm grasp of the results-driven excellence and quality service that are necessary in cultivating and sustaining connections between individuals of this caliber."
Pacific Union CEO Mark A. McLaughlin traveled to Miami to attend the event, as did San Francisco-based Pacific Union real estate professional Betty Sun Wong. Bonnie Sellers, CEO of CIRE, joined them in South Florida.
Pacific Union enjoys an exclusive relationship with CIRE in many Northern California regions — including  San Francisco, the East Bay, Marin County, and Wine Country — enabling the firm to market its Bay Area clients' homes to affluent buyers across the globe.