One of the latest, hottest trends in real estate is a renewed focus on the family — specifically, aging parents and accommodations that help keep families together.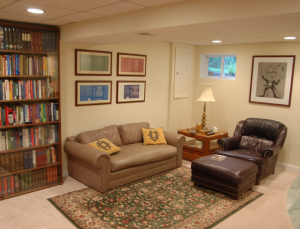 More homeowners are remodeling their dwellings to create in-law suites for parents, with features to make them accessible and safe while providing plenty of space and privacy. The units can also add value to the property later on.
The Washington Post recently reported on the trend, noting that "moving Mom or Dad into the family home may be a more affordable option" than costly caregiving facilities.
And demand for in-law suites is growing. With baby boomers aging, the U.S. population of people 65 or older is expected to grow from 39.6 million in 2009 to more than 72 million in 2030, according to federal Administration on Aging data, The Post reported.
In-law suites give parents their own space but keep them close enough to interact with their children and grandchildren.
Often, in-law suites are located on the first floor of a home to eliminate stairs. They typically feature flush thresholds; large bedroom and living areas; showers with ramp entries, built-in benches, and grab bars; and wide doorways that accommodate wheelchairs, walkers, and people walking side by side.
True in-law suites — separate living spaces inside homes to accommodate an older or disabled relative — are not the same as "accessory dwelling units" (ADUs), which are separate units often intended for rental.
ADUs are often placed in a walk-out basement or over a garage, walled off from the rest of the house and equipped with a full kitchen and separate entrances, The Post noted. They face significant zoning restrictions and conditions, and they generally require special permits — a fact well-known in crowded cities such as San Francisco, where unpermitted dwelling units are quite common.
Builder Jason Hampel told The Post that homeowners should plan for the long term when designing in-law suites, ensuring they can accommodate other uses and add resale value.
(Image: Flickr/A&A Design Build Remodeling)