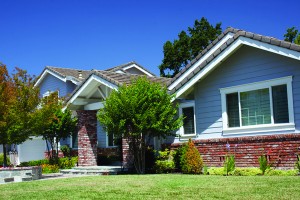 Here in the Bay Area, we've been heartened by the recent signs of an improving economy. Between the improving job numbers and the extra buying power offered by today's ultra-low interest rates, the factors are increasingly positive in supporting an upswing for our real estate industry.
But it continues to be predominantly a seller's market, with inventory (available homes for sale) far outstripped by demand. In many of our areas, we're seeing multiple offers, reduced time on the market, and a few frustrated buyers who just can't find a property.
However, we're seeing some early harbingers of change. One of our insider-secret leading economic indicators is on the rise: the availability of home stagers.
Home staging is the art and science of presenting a home in its best light to facilitate a sale. The best stagers create an attractive "blank slate," through a combination of design and décor, onto which prospective buyers can project themselves.
These efforts work. StagedHomes.com reports that 94 percent of staged homes sold in 29 days or less, compared to an average 145 days on the market for non-staged homes. According to a HomeGain national survey, staging a home brings on average a 299% return on investment for sellers.
That means smart sellers make staging a priority, and an increase in business to stagers tends to precede an increase in homes for sale.
In several of our areas, home stagers are busier than ever — a great sign!
For example, the word from our Marin offices is that stagers are seeing increased demand for their services with properties in the $1 – $2 million range. One of the top stagers reports he is busier than ever – at the time we spoke with him, he was juggling 21 homes.
Other notes from Marin:
• There's tough competition on almost every staging opportunity
• Many of the projects are larger in scope than usual
• Stagers are expecting to see this increased activity continue through June
All the Marin stagers we contacted had examples of properties they staged going into contract within a week, with one seeing 3 of 7 go into escrow in just 6 days. All 3 had multiple offers and went over asking.
Other Pacific Union branch executives throughout the Bay Area confirm that the number of new listings is on the rise. In our Contra Costa area, for example, the upcoming number of listings is double what it was two weeks ago – and most of these are brand-new to the market rather than re-listings.
All this means we'll be seeing an influx of new properties coming on the market in the next 4 to 6 weeks. So buyers, start your engines! Looks like March might be the month to make your move.