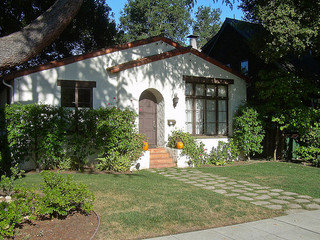 Intense demand and limited supply have kept the median sale price for single-family homes in Pacific Union's Silicon Valley region hovering around $2.4 million for most of 2014. And although home prices in our Mid-Peninsula subregion steadily declined throughout the summer, it is still the second most expensive area in which Pacific Union operates, with an August median sales price of $1.33 million.
In such a competitive real estate market, homebuyers are finding that one secret to success involves overbidding from the outset, a potential bonus for homeowners planning to put their properties on the market this fall.
To examine which specific Silicon Valley and Mid-Peninsula neighborhoods currently favor sellers the most, we examined MLS data from the following San Mateo and Santa Clara County communities: Atherton, Burlingame, Hillsborough, Los Altos, Los Altos Hills, Menlo Park, Palo Alto, Portola Valley, San Mateo, and Woodside. We included only neighborhoods with at least two single-family homes sales in August.
Palo Alto neighborhoods dominated the list of the 10 markets where homes sold for the most over original price, taking four of the top five spots. Homes in the city's Midtown neighborhood commanded the highest premiums of any in the aforementioned communities, an average of almost 124 percent.
Two of Palo Alto's most coveted neighborhoods took second and third places on the list. Homes in Old Palo Alto sold for 122.6 percent of original price, while those in Crescent Park pulled in 115.7 percent of asking price.
In one extreme example, a two-bedroom, 1,080-square-foot home in Old Palo Alto sold for $2.8 million in early August, almost 50 percent more than its original price of $1.9 million.
See the chart below for the full results.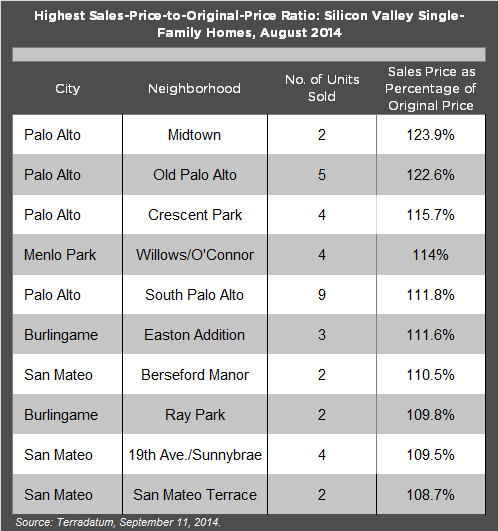 (Photo: Flickr/David Sawyer)