Situated directly on the western shore of Lake Tahoe and a few miles from three popular ski resorts, Tahoe City will certainly appeal to homebuyers looking for a seasonal getaway. However, the Placer County community offers enough year-round activities to convert second-home vacationers into full-time residents.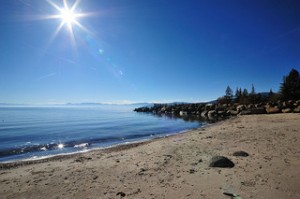 Quick access to the slopes is often a primary consideration for homebuyers in our Tahoe/Truckee region, and skiers and snowboarders will appreciate Tahoe City's close proximity to Homewood, Squaw Valley, and Alpine Meadows resorts, all of which are located less than 8 miles away.
Tahoe City's lakefront location also means there is plenty to occupy residents during the other three seasons and is its main draw for buyers, according to Sally Gardner, branch executive for Pacific Union's Tahoe/Truckee region.
"If you're buying in Tahoe City, it's because you're drawn to the beauty and splendor of one of the best alpine lakes in the world," Gardner said.
Centrally located Commons Beach is a fine place to take a dip on a warm day and hosts a series of summer concerts on Sunday afternoons. Locals and visitors alike can also soak in the dramatic scenery by renting a stand-up paddleboard or kayak at Tahoe City Kayak. Alternatively, Tahoe City Marina rents both powerboats and sailboats by the hour and provides boat-storage services for owners.
Golfers can tee off at Tahoe City Golf Course, conveniently located near the community's central business district. Hikers and mountain bikers will enjoy taking advantage of the Sierra Nevada's fabulous fall and spring scenery at nearby Tahoe State Recreation Area and Burton Creek State Park, both of which offer miles of trails and unpaved roadways.
North Lake Boulevard, Tahoe City's main drag, is where locals go to dine out. Restaurants lining the strip serve cuisines of all sorts, including Mexican, Thai, Chinese, and pizza. Nightlife enthusiasts also have a number of choices, including Tahoe Mountain Brewing Co., which pours more than a half-dozen locally made beers.
Tahoe City has everyday shopping necessities covered, thanks to a Safeway and a CVS pharmacy. However, residents who need items they can't buy locally are only 15 miles south of the larger city of Truckee, which is accessible by state Route 89. From Truckee, Reno, Nev. — the largest city in the region — is a 40-minute drive east on Interstate 80.
The majority of Tahoe City homes are designed in the mountain and chalet architectural styles, complementing their natural surroundings. According to MLS data, the median sales price for single-family homes in Tahoe City was $670,000 in July 2013, a 20 percent increase from a year ago. Condos had a median sales price of $289,000, a slight year-over-year decrease of 4 percent.
(Photo: Flickr/Mith Huang)