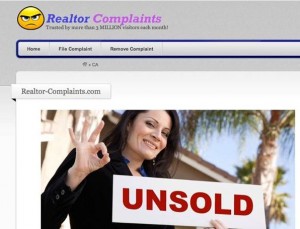 Complaints from real estate professionals at Pacific Union International and other firms nationwide have helped shut down a suspected scam website that posted phony complaints about real estate agents and then demanded money to remove the complaints from the site.
The suspect site, Realtor-complaints.com, went offline last week, according to the National Association of Realtors, which launched an investigation after accusing it of misusing the Realtor trademark.
Realtor-complaints.com claimed to publish consumer complaints about real estate agents and offered those agents an "opportunity" to pay as much as $199 to have the complaint and their names wiped clean from the site.
The site's Internet servers were based in the Seychelles, an archipelago in the Indian Ocean. It claimed to have been in business since 2002, but the NAR said its was initially registered on Internet domain-name servers on Jan. 1.
Pacific Union learned of the website a week after its appearance when one of our real estate professionals got a questionable email, purportedly from a potential client who saw a "bad review" on Realtor-complaints.com.
We spotted the site's offshore location and a suspicious similarity in the wording of several of the so-called complaints, and we forwarded our concerns to the NAR.
Two days later, after receiving dozens of similar complaints, the association posted a note on its website identifying Realtor-complaints.com as a "suspicious" site engaging "in what seems to be an attempt to get money from real estate practitioners."
As complaints mounted and several investigations got under way, the site's content disappeared.
The NAR said a page appeared on Realtor-complaints.com last week indicating that the site had been sold and would relaunch on May 1. Internet domain registers, meanwhile, identified the site as being suspended, and a check of the website on Monday presented a page of real estate links apparently posted automatically by an advertising service.
The NAR said it will monitor the site to see if it does, in fact, get relaunched.
It also added a note of warning: "One thing's for sure: The closure of Realtor-complaints.com isn't the end of such Internet scams."