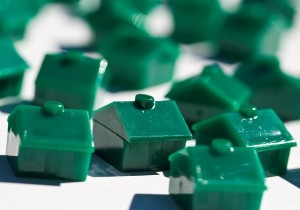 Here's a look at recent news of interest to homebuyers, home sellers, and the home-curious:
BIG JUMP IN NEW-HOME SALES
Homebuilders are back in business, according to the U.S. Census Bureau, which reported last week that sales of new single-family homes rose 20 percent from 2011 to 2012, and 32 percent in Western states.
That's great news for the construction industry, of course, coming after six years of declines, but financial news blogger Bill McBride notes that 2012 was still the third worst year in new-home construction records dating back to 1963. The two lowest years were 2010 and 2011.
---
EXISTING-HOME SALES UP 6.3%
The National Association of Realtors' year-end housing totals tell a remarkable story: Existing-home sales rose 9.2 percent in 2012 from 2011, a five-year high, and the national median existing-home price was up 6.3 percent.
Pent-up demand is sustaining the market, according to NAR chief economist Lawrence Yun.
"The number of potential buyers who stayed on the sidelines accumulated during the recession, but they started entering the market early last year as their financial ability and confidence steadily grew, along with home prices," Yun said in a statement.
"Likely job creation and household formation will continue to fuel that growth. Both sales and prices will again be higher in 2013."
---
DECEMBER DIP IN PENDING SALES
Pending home sales were down 6.5 percent in December from a year earlier, according to the California Association of Realtors, which blamed the shortfall on a lack of homes for sale. Pending home sales are forward-looking indicators of future sales activity, providing information on the future direction of the market.
---
ZILLOW: HOME PRICES 'SUPERCHARGED'
Home prices rose an average of 5.9 percent in 2012, which Zillow Inc., in its quarterly real estate report, called "supercharged" and unlikely to last.
In the San Francisco metro area, the median home price rose 14 percent in 2012 to $526,200, Zillow said, while rents rose 5.1 percent to $2,517.
"We don't believe that the current pace of home value appreciation in many parts of the country is sustainable, due in part to the origin of this appreciation, which we believe to be negative-equity fueled inventory shortages," Zillow said on its blog. "High rates of negative equity continue to keep homeowners locked in their homes thereby limiting the overall supply of for-sale homes and helping to fuel intense price appreciation."
The annual home price appreciation in the 1990s was 2.6 percent, and Zillow forecast a moderate average price increase of 3.3 percent for 2013.
---
CALIFORNIA FORECLOSURES DOWN 38%
The number of California homeowners pushed into foreclosure in the fourth quarter of 2012 fell 38 percent from a year earlier, the lowest level in six years.
Market research firm DataQuick attributed the steep decline to rising home values, an improving economy, and a shift toward short sales.
In the Bay Area, formal notices of default fell an average of 46 percent year over year, ranging from a 42 percent drop in San Francisco to a 51 percent decline in San Mateo County.
---
2012 PREDICTIONS — HOW ACCURATE?
The Wall Street Journal's real estate blog last week revisited the December 2011 predictions of economists and housing analysts for 2012 and found that, overall, they would have done just as well by flipping a coin.
Of 94 people who made predictions for 2012, 42 said home prices would fall on a year-over-year basis, and only five predicted annual gains of 3 percent or higher. One forecaster called for prices to fall 10 percent.
Looking ahead, "the vast majority" of more than 100 analysts polled in December said home prices will rise in 2013, with a median forecast of a 3 percent gain. The median forecast also predicted that prices will rise by 23 percent through 2017.
(Toy houses photo courtesy of Woodleywonderworks, via Flickr.)