Here's a look at recent news of interest to homebuyers, home sellers, and the home-curious:
SAN FRANCISCO VOTERS GET FINAL SAY ON CONTESTED CONDO PLAN
San Francisco's lingering reputation as a tough town for new real estate construction is likely to be perpetuated by the current struggles of a firm seeking to develop a 134-unit, 12-story condo building near the city's historic North Waterfront neighborhood, according to an article in The Wall Street Journal.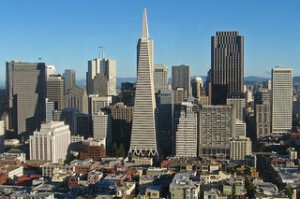 Although San Francisco officials approved Pacific Waterfront Properties' condo development at 8 Washington St. last year, a group called No Wall on the Northeast Waterfront – made up of local residents and commercial real-estate firm Boston Properties – has poured more than $780,000 into fighting the project.
In return, Pacific Waterfront Properties has funneled almost $1.4 million into its side of the dispute and has a ballot measure of its own on the table. In hopes to sway voters, both sides have funded local political-style TV ads, the Journal reports.
The end result: San Francisco voters will have the ultimate word on whether the project flies or dies in the upcoming Nov. 5 election.
While some supporters of the development cite the city's lack of inventory as reason to move forth with the project, opponents claim that the 134 condos will do little ease to the lack of affordable housing in San Francisco.
---
EQUITY SALES UP, PENDING SALES DOWN IN CALIFORNIA
A recent report from the California Association of Realtors shows that while equity sales were up in the Golden State in September, pending home sales took a slight slip.
The number of equity sales in the state rose to 85.8 percent in September, the 1oth consecutive month of increases. Equity sales were up 1.1 percent from August and a healthy 23.1 percent from September 2012.
Meanwhile, the California Pending Home Sales Index fell to 106.4 in September, a drop of 1.8 percent from the previous month. Year-over-year, pending sales in the state are down 8.1 percent, but the report notes that this year's August-to-September decline was slightly lower than that seen in the same time period over the previous five years.
---
BIDDING WARS SLACKEN ACROSS NATION
Bidding wars – which have been common in the Bay Area during the housing recovery – relaxed around the U.S. in September, according to a report from Redfin.
Redfin's data, taken from its agents in 22 markets, shows that bidding wars declined 2.2 percent from August to September. Even better long-term news for temporarily sidelined buyers is the fact that bidding wars have dropped a significant 17.7 percent from their peak in the early spring.
According to Redfin's numbers, the news is more mixed for hopeful Bay Area buyers. In September, San Francisco was just one of two metropolitan areas where sellers received more than their asking prices, an average of 7.3 percent. On the bright side, all-cash offers in the city – which have been stymieing Bay Area buyers since the spring – saw a month-over-month decrease of 7.9 percent, falling to just 3.6 percent in September.
---
EXISTING U.S. HOME SALES DECLINE IN SEPTEMBER – EXCEPT IN WEST
Existing-home sales across the country dropped in September by 1.9 percent from the month before, according to statistics from the National Association of Realtors.
In September, 5.29 million existing homes were sold in the U.S., down from 5.39 million in August. Still, September's figures were 10.7 percent higher than they were a year ago, when 4.28 million existing homes left the market.
The national trend was reversed in September in Western states, where existing homes sales actually increased 1.6 percent from August and 7.8 percent year-over-year. Yearly median home prices in the Western U.S. saw the biggest increases in the country, spiking 16.8 percent.