They say "cash is king," and that's true more than ever in today's highly competitive real estate market of heated bidding wars and limited inventory.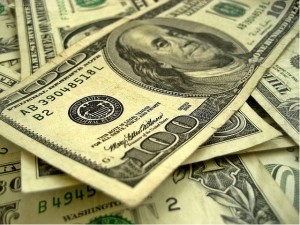 All-cash offers were on the rise in the Bay Area in the first half of 2013, disappointing many would-be homebuyers who lost out repeatedly to deep-pocketed competitors with liquid assets galore.
"A lot of people have gotten so frustrated by being outbid by cash that they're on the sidelines now," said Rick Laws, branch executive of Pacific Union's Sonoma County offices.
WHAT IS AN ALL-CASH OFFER?

When real estate professionals refer to an "all-cash offer," they don't usually mean the buyer showed up mafioso-style with a suitcase full of $100 bills.
"Their money's wired in – they've got the money in the bank," said Linda Carroll, branch executive for our Napa and St. Helena offices.
Most buyers who offer cash can do so because they're simply wealthy or have just sold another property. But other types of homebuyers are using an arsenal of methods to scrape together the cash to win a bidding war – and then quickly obtain financing.
Some get a loan from a parent or friend. Others take out a line of credit on their current home, borrow against their stock portfolio or retirement account, or obtain a "bridge loan," designed to help buyers afford a down payment on a new house before selling their old property.
A few will resort to borrowing from a "hard-money lender," a practice many experts consider risky.
"We've met homebuyers pulling funds together from family members and other sources in order to get their offer accepted in multiple-offer situations," said Sheila O'Neill, president of our mortgage affiliate.
Once the deal is in the bag, the homebuyer then refinances and pays back the debt.
Nonetheless, it's important for buyers to work with a mortgage professional before the sale to make sure they qualify for financing – and secure all private loans against the home with a deed of trust to ensure better terms on the new mortgage, experts say.
WHY ARE CASH OFFERS SO ATTRACTIVE?

With mortgage rates hovering near historic lows, some would-be buyers may wonder whether it's worth it to shell out hundreds of thousands of dollars in cash.
The reason cash offers usually prevail is because they're more likely to close swiftly and without problems, compared with financed bids. That's even truer in a competitive seller's market, where multiple offers can push home prices over appraised values, prompting the lender to balk.
"If you have no loan, you have no appraisal," said Brent Thomson, branch executive for our Marin County offices. "In multiple-bid situations, sometimes it's tough for a property to appraise (at the sale price) because it's going way over the asking price."
Many eager buyers are seeing the advantages to offering all cash.
"In our Sonoma Valley region, all-cash deals accounted for a whopping 38 percent of second-quarter sales as of June 24," said Jill Silvas, branch executive for our Sonoma Valley office. A full 35 percent of sales in Tahoe/Truckee were all cash as of June 25, followed by our Sonoma County region, where cash deals comprised 29 percent of transactions that closed between April 1 and June 27.
WHEN CASH DOESN'T WIN

Of course, sometimes a seller has reason to choose a financed offer over an all-cash bid.
Sonoma County, for example, has seen somewhat of a backlash against investors who snap up properties to flip them or rent them out at a profit, Laws said.
"I see an increasing number of people who don't want to sell their home to an investor," he noted. "They would rather sell to somebody who is going to live in their home and is a member of the community."
And in second-home markets like our Tahoe/Truckee region, buyers are often highly qualified for a mortgage. That means financed offers can win out if they come in more than a couple of thousand dollars above a cash bid.
"People are very solid if they're financing up here," said Sally Gardner, branch executive for our Tahoe/Truckee offices. "If an all-cash offer is within $1,000 or $2,000 of a financed offer, the seller's taking the cash offer. If it's more than a $3,000 to $5,000 difference, I don't think it really matters."
HOW TO COMPETE

So how can buyers unable to offer cash compete?
Many are waiving contingencies — including the appraisal contingency, writing "love letters" that describe why they want the home, or offering to let the owners stay put for several months rent-free.
And of course, finding the right real estate professional to represent you is always a shrewd move. In some cases they are privy to off-market sales, which can keep competition to a minimum, or may be able to plead your case with a seller's agent.
"You have to get a really savvy agent who has good communication with other agents in the marketplace," Laws said. "Find out what the seller wants, and try to structure your offer to give it to them."
(Photo: Flickr/401(K) 2013)