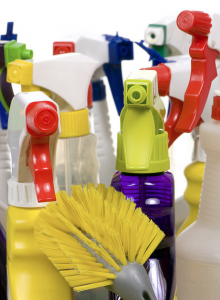 Springtime is real estate's busiest season. Are you ready for it?
If you plan to put your home on the market over the next few months, you have some work ahead, starting today. As a seller, you'll be competing for the attention of buyers, and nothing will catch their interest like a bright, inviting home that's so clean it sparkles.
Of course you've been keeping your home clean and well-maintained all along, but take a look at this to-do list to make sure nothing has fallen by the wayside.
CLEAN IT, FIX IT, OR PUT IT AWAY
Wash all windows (and mirrors), and pull back the curtains or blinds to maximize sunshine. Scrub light-switch plates, bathroom and kitchen faucets, and the areas around cabinet handles to remove grime and fingerprints.
Paint walls and replace worn carpeting. Some real estate professionals say painting and new carpeting are the cheapest fixes with the biggest payback.
Get rid of clutter, particularly in the kitchen. Homebuyers love to open cabinets and closets, and sparsely filled storage spaces look bigger than those packed full of items. Consider renting a storage unit for items that aren't essential to your daily life.
Take family photos off the walls and put them, along with other personal mementos and family heirlooms, in the storage unit you rented. Buyers want to imagine their own photos on the walls, and yours will just get in the way.
If your home needs repairs to the electrical system, or plumbing, heating, or air conditioning, do it now. Buyers will quickly lose interest — or make lowball offers — if your home needs additional work.
PAY ATTENTION TO CURB APPEAL
First impressions are hard to shake, and an overgrown yard can turn away buyers before they get to your front door. Rake the yard, trim back bushes and tree limbs, and remove leaves from gutters.
A manicured lawn tells buyers you pay attention to details. Edge the lawn along sidewalks, driveways, and walkways, and mow the lawn diagonally to make your yard appear larger.
No flowers in your front yard? Buy some container plants, or transplant tulips and daffodils for a quick springtime facelift.
OPEN HOUSE EXTRAS
If your real estate professional has scheduled an open house, help to make your home even more welcoming. Fill the kitchen sink with ice and several dozen bottles of water. Weary home shoppers will be grateful — and remember your courtesy.
If the weather outside is unpredictable, put a mat outside your door so visitors can wipe their feet before entering. And have space handy for umbrellas.
Buy a bunch of brightly colored balloons to tie to the open-house signs. They will guarantee that your home will get noticed.
(Image: Flickr/Backdoor Survival)