Bay Area residents may dream of a get-away retreat in the Wine Country, or perhaps a pied à terre in San Francisco. Or a cabin at Lake Tahoe. But for many, home away from home is a self-storage locker that houses the overflow of busy lives.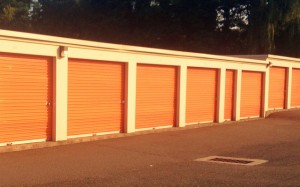 One in every 10 Americans rents storage space, and Curbed.com reported recently that our country is home to 48,500 self-storage facilities — more than three times the number of McDonald's restaurants.
If you're in the market for storage space, consumer advocates and industry experts say you should do your homework before rushing off and unloading a truck-full of prized possessions.
Ask friends and family for recommendations, or check with your local Better Business Bureau. You might also run a quick check on the Internet to see if a certain facility has been in the news for the wrong reasons.
According to California law, all storage-rental contracts must be in writing. The contract must specify any applicable late fees and must include a statement that the occupant's property will be subject to a lien, and may be sold, if rent and other charges remain unpaid for 14 consecutive days.
Before any money changes hands, tour the storage facility and ask about security measures. Does the property have video surveillance? Is there gated access? How safe is the neighborhood?
Most self-storage facilities will require you to use your own lock. Stay away from standard or combination padlocks, as they can be easily picked or broken. Stick with a closed-shackle padlock, disc lock, or cylinder lock.
Allstate's website offers smart tips for keeping your possessions safe, including:
If you are storing temperature-sensitive items such as wine; wood or leather furniture; vehicles; or artwork; climate control is essential. Extreme highs or lows in temperature or humidity can damage your property.
Storing heavy or large objects? It may be worth the extra cash to rent a unit on the ground floor. Additionally, choose a larger unit if you plan on accessing your stored property often. This gives you walking space.
Know what you can't put in storage. This includes perishables, explosives, flammable items, and hazardous materials. If you're unsure, ask the facility manager.
For tips on storing specific items, visit the website of the National Self-Storage Alliance, a trade association. Topics include wedding dresses, documents, and car and boat storage, to name a few.
(Image: Flickr/Mike Mozart)