Pacific Union is pleased to announce that we've officially opened our new headquarters in San Francisco. The move consolidates our firm's three offices in the city under one roof and allows our real estate professionals to better collaborate so that we can continue to offer our clients an extraordinary level of service.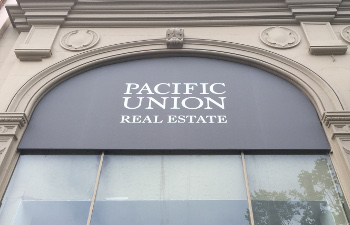 Located at 1699 Van Ness Ave. at the corner of Sacramento Street, Pacific Union's highly visible new headquarters is housed in a historic building that was the original home of the Studebaker automobile showroom. The former Auto Row space has been extensively renovated by local architectural firm Studio TMT, which chose a ultramodern design motif for the interior office space.
"This move underscores Pacific Union's leadership position in the San Francisco Bay Area and the city," Pacific Union President Patrick Barber says. "We'll be able to deliver an even more extraordinary level of client service, and our team will have more opportunities to support each other and collaborate."
The 40,000-square-foot space has more than 100 private and open offices, a large living room with a two-story atrium, multiple conference rooms, two kitchens, and four copy centers. Our headquarters offers visiting clients complimentary valet parking and employs a full-time concierge.
Pacific Union formerly operated San Francisco offices in the Presidio, Opera Plaza, and South Beach. Our company currently operates 28 offices across nine Bay Area regions and the Lake Tahoe/Truckee area.