The San Francisco metro area is just one of two U.S. regions where year-over-year home prices have increased by more than 20 percent for the 11th consecutive month, according to the January S&P/Case-Shiller Home Price Indices.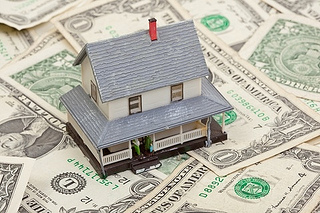 In the opening month of 2014, home prices in San Francisco were up 23.1 percent from the previous January. Meanwhile, sales prices in the region have grown by more than 20 percent since March 2013, the only metro area in the country besides Las Vegas to enjoy such a long stretch of increases.
San Francisco was one of seven metro areas included in Case-Shiller's 20-city composite that showed positive month-over-month home price gains, increasing 0.5 percent from December to January.
Home prices across the U.S. were up 13.2 percent year over year in January but have declined 0.1 percent for the past three months. Despite the recent seasonal slips, S&P predicts continued price gains in the coming year, although they'll likely be less dramatic than those seen in 2013.
"Expectations and recent data point to continued home price gains for 2014," David M. Blitzer, chairman of the Index Committee at S&P Dow Jones Indices, said in a statement. "Although most analysts do not expect the same rapid increases we saw last year, the consensus is for moderating gains."
A closer look at Bay Area prices reveals double-digit percentage increases from January 2013 in each of Pacific Union's eight regions.
After two straight months of modest declines, Sonoma Valley single-family home prices roared back in January, posting year-over-year gains of 54 percent. In San Francisco the median home price surpassed the $1 million mark and was up 44 percent from last January.
Napa County saw year-over-year price hikes of 29 percent, followed by Contra Costa County (28.5 percent), Sonoma County (27 percent), the East Bay (20.5 percent), Marin County (18 percent), and Silicon Valley (11 percent).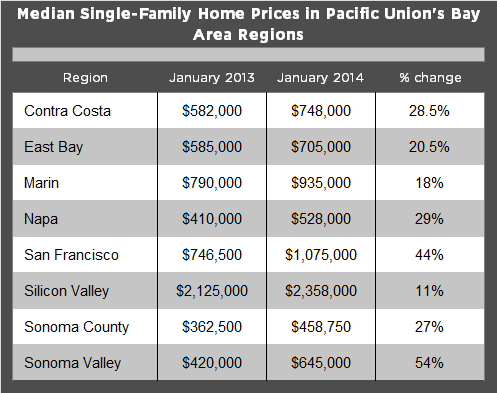 (Image: Flickr/Mark Moz)