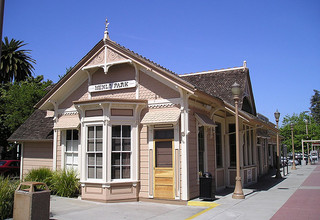 Thanks to its location within walking distance of the bustling downtown business district, top-rated schools, and Stanford University, Central Menlo Park has become one of the most popular – and expensive – neighborhoods in the San Mateo County city.
Central Menlo Park — also known as West Menlo Park — is bordered by Valparaiso Avenue to the north, Arbor Road to the east, San Francisquito Creek to the south, and Cloud Avenue to the west. The neighborhood is roughly equidistant between Highway 101 and Interstate 280, making it easy to get to many parts of Silicon Valley and San Francisco.
According to one of Pacific Union's top real estate professionals in the region, the neighborhood's walkability is one of its main draws. Residents are just a brief stroll from downtown, and their children can walk to Oak Knoll School and Hillview Middle School, which received respective scores of 961 and 950 of a possible 1,000 on the state's 2013 Academic Performance Index.
Also within walking distance are several highly rated private schools, including Sacred Heart Schools, Menlo School, and St. Raymond School.
In addition, families appreciate easy access to outdoor-recreation spots, including Fremont Park and Nealon Park. The former hosts a summer concert series on Wednesday evenings, while the latter offers lighted tennis courts and a softball field.
Even parents with college-aged children find Central Menlo Park appealing because of its close proximity to Stanford University. Our real estate professional notes that she has sold neighborhood homes to families who wanted their children to be able to bike across the creek to Stanford.
Menlo Park's primary business district — centered along Santa Cruz Avenue — is lined with boutique shops and restaurants and is accessible on foot. Central Menlo Park residents can also walk to the Caltrain station, which offers both weekday and weekend service to San Francisco.
Despite its close proximity to city amenities, the neighborhood itself retains a tranquil suburban atmosphere, with leafy streets and well-tended lawns. As is the case in many parts of Silicon Valley, homes represent a range of architectural styles, including ranch, Cape Cod, and Tudor.
Currently, Central Menlo Park is one of the most expensive neighborhoods in the city. In February the median sales price for a single-family home was $2.63 million, 31 percent higher than in Menlo Park, according to MLS data.
For most of the past two years, inventory in Central Menlo Park has tilted solidly in favor of sellers. In February the months' supply of inventory was just 0.7, the lowest level since May 2012.
(Image: Flickr/Adam Sporka)