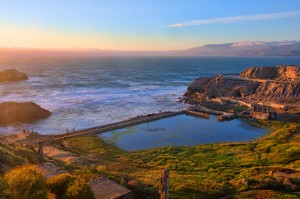 With its notoriously foggy weather and sleepy vibe, San Francisco's Outer Richmond neighborhood feels a world apart from some of the city's more bustling areas.
Yet the neighborhood offers a perfect mix of dining, outdoor recreation, and residential peace – all just a quick (express!) bus ride from the Financial District. And, yes, the sun really does shine in the Richmond sometimes.
The neighborhood's main business corridors center on Geary Boulevard and Clement Street, with another cluster of restaurants and stores on Balboa Street.
While the Outer Richmond technically runs from 32nd Avenue to Ocean Beach, residents tend to frequent Central Richmond businesses as well.
Known for its Asian restaurants and Russian bakeries, the area doesn't disappoint when it comes to food. Local favorites include dim sum joints like Shanghai Dumpling King, Ton Kiang, and Hong Kong Lounge; classic eateries like Louis' Restaurant, Bill's Place, and the Beach Chalet Brewery & Restaurant; and delicious pizzerias Pizzetta 211 and Gaspare's, the site of a film shoot for Woody Allen's recent hit, "Blue Jasmine."
During the day, Bazaar Cafe on California Street provides a low-key vibe with good eats for the laptop crowd and often hosts readings and live music at night. Cassava, on Balboa and 36th Avenue, serves up delicious baked goods, coffee, and breakfast with a Japanese flair.
While lacking major grocery stores apart from the Safeway on La Playa Street, the Outer Richmond boasts a range of ethnic and produce markets, including New World Market and Richmond Produce.
The Cliff House, Sutro Baths, and Ocean Beach are a draw for tourists and locals looking to surf, take in the view, or simply imagine the San Francisco of yore. And while the Musée Mécanique has moved to Fisherman's Wharf, the fascinating Camera Obscura still mesmerizes visitors with 360-degree views of the area.
With its captivating vistas, the Lands End trail is a favorite among runners, hikers, and dog walkers. Meanwhile, Baker Beach offers visitors some of the best views of the Golden Gate Bridge found in the city, and Golden Gate Park, with its myriad of activities, abuts the neighborhood's southern border.
The neighborhood truly has something for everyone, and even art and film lovers can find their share of cultural offerings at the Legion of Honor museum or at independent movie houses the Historic Balboa Theatre and 4 Star Theatre.
Outer Richmond homes for sale often feature beautiful hardwood floors, bay windows, and wood-burning fireplaces.
In February the median sales price for a single-family home in the neighborhood climbed 9 percent to $982,500, compared with $900,800 a year earlier, according to MLS data. As in much of the city and the Bay Area, inventory in the neighborhood remains constrained. Just six single-family residences were for sale last month, down from 17 in February 2013.
(Photo: Flickr/Jonathan Dinh)