The most attractive homes in coveted Bay Area communities and neighborhoods are sure to draw the attention of multiple buyers, who then ignite bidding wars that often push the property's price far above asking.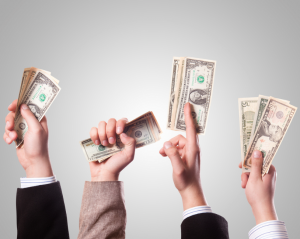 If you're shopping for a home in one of our region's more popular towns or cities, you should prepare for competition — and get ready to plunk down more than asking price. On the other hand, homeowners on the brink of listing a property should see if local buyers are paying hefty premiums to secure the perfect place.
To find out which Bay Area communities currently favor sellers the most, we dug into MLS data as of March 5 to uncover the cities, towns, and districts where buyers pay the highest average percentage above original price for single-family homes.
1. San Francisco District 1 – Sellers in San Francisco's District 1 — which includes the Sea Cliff and Richmond neighborhoods — were sitting pretty in February, when their homes commanded an astonishing 121.1 percent of original price, the highest total in two years. Homes in District 1 have sold for less than asking price only once since February 2012.
2. San Francisco District 9 – San Francisco's District 9 placed No. 2 on our list, with buyers forking over an average of 115.5 percent of original price in February. The district, home to the booming South Beach and Inner Mission neighborhoods, has seen buyers pay more than asking price for 23 consecutive months. The median sales price for a single-family home in District 9 was $1.25 million, the second highest in two years.
3. Woodside – Though only four homes sold in the small Silicon Valley town of Woodside in February, they netted sellers an average of 114.3 percent of list price. February marked an impressive increase in the sales-price-to-original-price ratio, a gain of about 28 percentage points from the previous month.
4. San Francisco District 2 – As in neighboring District 1 to the north, buyers clamored for properties in San Francisco's District 2, which includes the Sunset and Parkside neighborhoods. Sellers in the district enjoyed average sales prices of 113.4 percent of list in February, the largest premiums since last spring. The median sales price of $892,000 is the highest recorded in two years.
5. Berkeley – Always a popular destination for local homebuyers, Berkeley saw its homes sell for 111.9 percent of asking price last month, the most in the East Bay or Contra Costa County. Over the past year, Berkeley sellers have received average home price premiums of between 6 and 18 percent.
6. San Francisco District 4 – Successful single-family homebuyers in the city's centrally located District 4 paid an average of 110.6 percent of list price in February, nearly identical to numbers recorded in January. A lack of inventory has likely driven buyers to pay above list price in every month since January 2013. In that time period, the months' supply of inventory in the district has never risen above 1.9.
7. Palo Alto – The median sales price for a home in Palo Alto reached a two-year high in February, and premiums nearly followed suit. Sellers in the Santa Clara County city pocketed an average of 109.9 percent above asking price, the second most in the past two years. The median sales price, meanwhile, climbed to $2.4 million.
8.  Sausalito – Just two homes sold in Sausalito in February, but those who bought them still paid an average of 107.8 percent of original price. That said, hopeful buyers in the city were in better shape than in December, when sellers enjoyed holiday premiums of 18.6 percent.
9. El Cerrito – In January El Cerrito buyers finally got a bit of relief, when the sales-price-to-original-price ratio dropped to below 100 percent for the first time since late 2012. But last month sellers regained their advantage, pulling in 107.7 percent of asking price.
10. San Francisco District 5 – District 5, home to in-demand neighborhoods such as Noe Valley and Ashbury Heights, rounds out our list, with the average buyer paying 107.6 percent of list price in February. Sellers in this San Francisco district have been receiving premiums for their homes since April 2012.
(Photo: Flickr/401(K)2012)