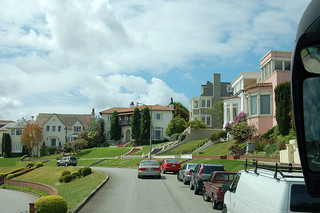 Last year brought robust growth to the San Francisco luxury real estate market, according to Christie's International Real Estate's just-released 2013 Luxury Defined report. But even with vigorous price and sales volume gains, our region remains a relative bargain when compared with other top international cities.
Luxury property sales – which Christie's defines as homes priced at more than $1 million – jumped a staggering 62 percent year over year in San Francisco, the largest gain of the 10 markets included in the report. And our region saw annual average price increases of 17.2 percent, the second-highest of the 10 regions.
The Christie's report notes that while tech-industry executives flush with cash from the booming economy helped drive price appreciation and sales in San Francisco, move-up buyers also played a crucial role.
"We are seeing the return of the 'move-up' buyer, which means competition is fierce in the $1 (million) to $3 million-plus price range," Pacific Union CEO Mark A. McLaughlin said.
While growth in San Francisco's luxury real estate market was impressive by any standard, the city still remains a more affordable place to buy a high-end home than other major global metro areas, including New York, Los Angeles, London, and Hong Kong.
The Luxury Defined report includes data for homes above $1 million, but entry price points vary around the globe. For instance, while the entry price point for a luxury home in London was $6 million, the San Francisco benchmark came in at half that. Our region also has a lower entry point than both New York and Los Angeles, where $5 million was the baseline in 2013.
In terms of price per square foot, San Francisco buyers could get more home for their money than those in all but two of the markets analyzed in the report.
Including single-family homes and condominiums, luxury buyers in the city of San Francisco paid an average of $829 per square foot in 2013. By contrast, buyers in Los Angeles — defined as areas from downtown west to Malibu — forked over $1,085 per square foot, while those in New York's Manhattan shelled out $1,565 per square foot.
And when compared with price-per-square-foot numbers in other parts of the world, San Francisco enjoys an even more dramatic advantage.
Luxury buyers in London paid an average of $4,683 per square foot, the highest of the markets included in the study and almost six times as much as those in San Francisco. In Hong Kong luxury buyers spent $2,578 per square foot, more than triple the local rate.
But prices per square foot in San Francisco could grow significantly higher by this time next year. That's because overseas buyers and investors have already realized our region's relative affordability on an international level.
"Continued international investment adds demand to the marketplace and will drive price per square foot higher as San Francisco joins the world's real estate stage," McLaughlin said.
The Christie's report notes that 60 percent of wealthy Chinese citizens are seeking to emigrate to the U.S., and San Francisco has become one of their top destinations.
(Image: Flickr/Joe Ross)