A lack of inventory pushed the March Bay Area median sales price to its highest level since 2007, but the shortage also held back the number of properties sold.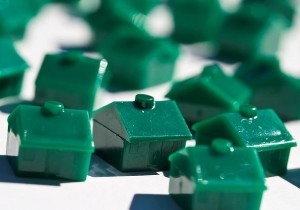 The median sales price across the nine-county region jumped 23.2 percent from a year earlier to $579,000, according to figures released this week by the research firm DataQuick. That's the highest since December 2007, when the median was $587,500.
The numbers show median sales prices have now climbed to three-quarters of their precrisis zenith.
The Bay Area median peaked at $665,000 in the summer of 2007, then dropped to a low of $290,000 in March 2009 amid the nationwide recession.
Since then, the median has increased on a year-over-year basis in each of the last 24 months.
Every Bay Area county posted double-digit year-over-year median price increases in March, ranging from 13.5 percent in San Mateo County to 30.4 percent in Solano County. Across the nine counties, all-cash deals made up 25 percent of all transactions, down 3 percent from February and 6 percent from last March.
Like all-cash purchases, Bay Area sales volume declined year over year, falling by 12.9 percent. The 6,308 homes sold make last month the slowest March since 2008.
Solano County had the biggest drop-off in transactions, 28.3 percent, while Napa County posted the smallest decline at 8.5 percent. In San Francisco sales volume expanded by 8.2 percent, the only Bay Area county where buyers purchased more homes than they did the previous March.
So just how tight is inventory in the Bay Area as the spring buying season heats up? According to MLS data as of April 16, the months' supply of inventory for single-family homes declined year over year in six of Pacific Union's eight Bay Area regions in March. Generally speaking, an MSI between 4.0 and 6.0 is considered a balanced market, with numbers above 6.0 favoring buyers and those below 4.0 slanted toward sellers.
The chart below breaks down the yearly MSI change in each of our Bay Area regions for single-family homes: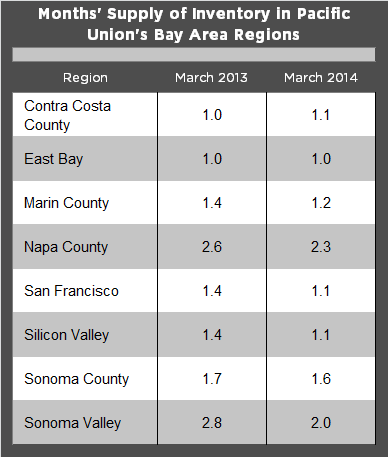 DataQuick closed its report by noting that our region's housing market continues to recover, pointing to factors such as a yearly drop in foreclosures, a low rate of multiple mortgages, and stable down-payment amounts.
(Image: Flickr/Woodleywonderworks)