Here's a look at recent news of interest to homebuyers, home sellers, and the home-curious:
SAN FRANCISCO PRICE APPRECIATION DOWN ALMOST 3O PERCENT SINCE LAST JULY
Year-over-year home price growth cooled in nearly two-thirds of U.S. metropolitan areas, with San Francisco seeing the largest declines in the country.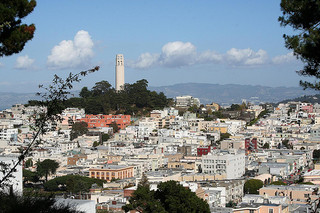 According to RealtyTrac's most recent U.S Residential & Foreclosure Sales Report, annual home price appreciation in the San Francisco metro area dropped 29 percentage points from July of to 2013 to July of 2014. Company vice president Daren Blomquist said that the national median sales price – currently at a 70-month high of $191,000 – is obscuring the weakening gains, which are neither a surprise nor a cause for concern.
"This slowing appreciation was expected and provides another sign that the real estate recovery thus far is behaving rationally," Blomquist said, noting that the market is becoming increasingly dependent on first-time and move-up buyers.
---
GOLDEN STATE EQUITY SALES REACH 7-YEAR HIGH
For the second consecutive month, equity sales accounted for more than 90 percent of California home transactions, with two Bay Area counties boasting the lowest distressed rates in the state.
The California Association of Realtors latest pending and distressed home sales report says that 90.6 percent of July sales in the state were equity sales, the highest level since late 2007. California equity sales are up 0.3 percent from June and 7.8 percent from July 2013.
Marin and San Mateo counties tied San Diego County for the fewest distressed sales in the state in July — 2 percent – followed by Santa Clara (3 percent), Alameda (4 percent), Contra Costa, and Sonoma counties (both 5 percent).
---
NORTH, SOUTH BAY HOME FLIPPERS TURNING HUGE PROFITS
The number of home flips across the U.S. may have reached a two-year low in the second quarter, but that's not stopping sellers in some Northern California markets from making substantial profits in a short period of time
RealtyTrac's Q2 2014 U.S. Home Flipping Report says that San Jose home flippers – defined as those who resell a property within a year of purchase – earned the greatest gross profit per transaction in the country, at nearly $259,000. The Santa Rosa metro area is also among the most profitable places in the nation for flippers, with the average sale making about $138,000.
Bay Area sellers could expect to net about three to five times more profit than the average U.S. home flipper, who pulled in $46,000 per sale.
(Image: Flickr/Fredo)