Here's a look at recent news of interest to homebuyers, home sellers, and the home-curious:
OAKLAND SEES SIZABLE ANNUAL ASKING PRICE UPTICKS
Bay Area home shoppers seeking a relatively affordable alternative to San Francisco have been flocking to the East Bay, and price increases in Oakland reflect that migration.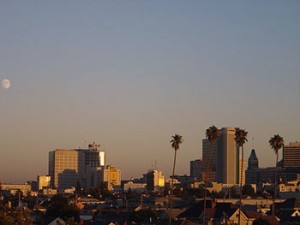 According to Trulia's latest price and rent monitor report, asking prices in Oakland climbed 13.4 percent year over year in November, tied for fourth highest in the nation. Nationally, asking prices rose 7.4 in that same time period, with 98 of 100 metro areas reporting annual gains.
Bay Area rental markets are also seeing some of the largest hikes in the country, Trulia says. San Francisco had the second highest year-over-year rent price increases in the U.S., at 12.2 percent, while rents in Oakland rose 11.9 percent, putting it in the No. 3 slot. San Francisco remains the nation's costliest rental market, with the median November rent for a two-bedroom unit pegged at $3,600.
---
9 BAY AREA COMPANIES RANKED AS BEST PLACES TO WORK
The Bay Area's prosperous economy is not only creating wealth that fuels demand for housing, it's also producing plenty of satisfied workers, a new survey says.
Bay Area companies accounted for nearly 20 percent of the 50 firms on Glassdoor's Employee Choice Awards 2015, which ranks the best places to work. Mountain View-based Google topped the list, with one program manager citing compensation, benefits, and talent level of colleagues as the search giant's main pluses.
Eight other locally headquartered companies made the list: Chevron (San Ramon), Facebook (Menlo Park), Genentech (South San Francisco), Adobe Systems (San Jose), Apple (Cupertino), LinkedIn (Mountain View), NVIDIA (Santa Clara), and Genesys (Daly City).
But one local company's star appears to be falling when it comes to employee happiness: An article at SFGate notes that Twitter, which ranked No. 2 on last year's survey, failed to make the 2015 list.
---
GOOD JOB MARKETS MAKE FOR PRICEY HOMES
U.S. metro areas with the best-paying jobs also have some of the highest housing costs, CNBC reports, delaying or prohibiting a home purchase for workers who earn six-figure salaries.
CNBC says that about 40 percent of San Francisco residents take home more than $100,000 per year compared with 22 percent of workers nationwide. Citing unspecified studies and government data, the article calls homes in San Francisco "prohibitively expensive," along with those in New York and Seattle.
According to CNBC, the main reasons for this trend are tighter access to credit, which makes it difficult to purchase an expensive home with a down payment of less than 10 percent, and sluggish construction activity.
---
TIPS FOR REDUCING CLOSING COSTS
Buying a home is usually the largest investment a person will make – particularly in expensive markets such as the Bay Area – so taking a few steps to cut down on closing costs can save buyers a substantial sum.
The Wall Street Journal offers a handful of tips for lowering closing costs, including adding them to the loan amount, which lowers immediate expenses but usually leads to a slightly higher interest rate. The article also suggests soliciting rates from more than one lender, as mortgage-origination fees can vary, as well as seeing if your own financial institution offers an origination-fee discount for current customers.
And while many homebuyers simply accept the lender-appointed attorney to represent them at closing, this isn't a requirement, so shopping around could result in reduced legal fees.
(Image: Flickr/christopher sebela)