Here's a look at recent news of interest to homebuyers, home sellers, and the home-curious: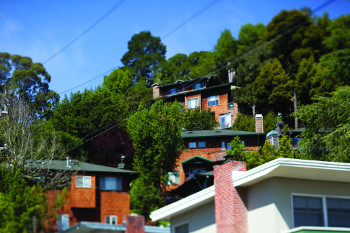 BAY AREA COUNTIES AMONG THE HEALTHIEST SPOTS TO RAISE CHILDREN
An April survey found Bay Area residents were among the nation's happiest. Now, a new study by U.S. News & World Report shows that our local counties also rank as among the healthiest for children.
The publication awarded Marin County a perfect score of 100 and a No.1 ranking, based on a combination of factors including low birthweight and poverty levels. San Francisco also cracked the top 10, coming in with a score of 91.5 to place sixth.
Eight of nine Bay Area counties ranked on the 50-county list, including San Mateo (No. 11), Santa Clara (No. 16), Sonoma (No. 36), Napa (No. 42), Alameda (No. 45), and Contra Costa (No. 47).
---
PACIFIC UNION'S CAROLINE NELSON GUESTS STARS ON "HOUSE HUNTERS"
Pacific Union's very own Caroline Nelson, a Marin County real estate professional based in our Larkspur office, recently appeared on an episode of HGTV's "House Hunters," where she helped a transplanted couple from Denver navigate the highly competitive and expensive waters of Bay Area real estate.
In the June 19 episode, Nelson walked Christian and Brad through a trio of Bay Area pads: a prime Victorian condo in San Francisco's Alamo Square and two contemporary single-family homes in Mill Valley. The couple not only needed to reconcile urban versus suburban living preferences but also wrestle space concerns – all on a $1.5 million budget.
In the end the pair opted to conserve some of their housing funds by purchasing a three-bedroom house in Mill Valley for $928,000 – about half of what they would have paid to own a piece of the Painted Ladies.
---
WALKABLE CITIES HELP DRIVE ECONOMIC GROWTH
A new study links walkability to economic prosperity, with San Francisco presenting a prime example of the trend.
The Center for Real Estate and Urban Analysis at the George Washington University ranked San Francisco fourth on its list of U.S. cities in terms of "walkable urbanism," which the study calls a "powerful driver of the economy." The university arrived at the results through a combination of Brookings Institution methodology, square-footage calculations, and Walk Score index rankings.
The study also ties walkability to per-capita GDP. Indeed, the nation's six most walkable urban areas had a per-capita GDP that averaged 38 percent higher than their 10 least-walkable counterparts. According to the report's findings, San Francisco has an average GDP of $69,900, the largest of the 30 metro areas included.
---
TIGHT INVENTORY WILL CONTINUE DRIVING UP HOME PRICES, RENTS
Slim inventory pickings should help sustain housing price growth throughout the rest of 2014, Freddie Mac said in its June 2014 U.S. Economic and Housing Market Outlook.
"With vacancy rates moving back in line with historical averages, even falling below historical averages in some markets, and for-sale inventories remaining tight, U.S. home price indexes are likely to continue their above-inflation growth for the remainder of the year, as will rent gains, albeit much slower than in 2013," Freddie Mac Vice President and Chief Economist Frank Nothaft said in a statement accompanying the report.
Freddie Mac says it expects the gains to negatively impact affordability in the short term. Those words will ring especially true for Bay Area home shoppers; Freddie Mac currently ranks San Francisco the second least-affordable U.S. housing market, followed by San Jose at No 3.