Here's a look at recent news of interest to homebuyers, home sellers, and the home-curious:
1 IN 6 CALIFORNIA HOMEBUYERS HAILS FROM OVERSEAS
International homebuyer activity across the Golden State "continued its momentum" last year, says the California Association of Realtors, with China being the dominant country of buyer origin.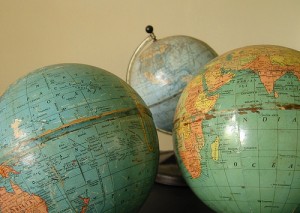 According to CAR's 2014 International Home Buyers Survey, 14 percent of real estate professionals polled reported closing a deal with an overseas client last year, unchanged from 2013. Buyers from China accounted for 36 percent of international transactions in the state, nearly identical to the preceding year and more than triple the amount of buyers from Canada, who accounted for 11 percent of closed sales.
Two-thirds of international buyers paid all cash, and CAR notes that those from China particularly favored this strategy. Buyers from overseas say they plan to keep their properties for a median seven years, two years longer than in 2013.
---
MANY BAY AREA ALL-CASH BUYERS FINANCE AFTER PURCHASE
Home price appreciation throughout the Bay Area has prompted about one in five all-cash buyers to tap into their equity and take out a loan post-purchase, some of the highest rates in the U.S.
RealtyTrac's Q4 and Year-End 2014 U.S. Institutional Investor & Cash Sales Report says that 24 percent of San Francisco homebuyers took out a mortgage after paying cash, the most in the country. Marin County had the third-highest number of all-cash buyers who later financed, at 20 percent, while San Mateo, Santa Clara, and Alameda counties tied for the No. 4 spot at 19 percent. Across the U.S., 8 percent of all-cash buyers subsequently got a mortgage, according to the report.
More than 450,000 single-family home and condominium sales in California have been done in all cash over the past four years, second only to Florida.
---
HOUSING MARKET NOT TOPPED OUT, INVESTMENT EXECUTIVE SAYS
A high-ranking executive at a global real estate investment firms begged to differ with a Nobel Prize-winning economist when it comes to whether home prices growth will continue.
In an interview with CNBC, Robert Shiller said that he believed that the intense demand for housing over the past few years, which was in part fueled by low mortgage rates, has passed. "This uptick we've seen in housing prices since 2012 may be temporary," Shiller cautioned. The co-founder of the well-known Case-Shiller index noted that home prices were at their historically correct levels, a sign that price growth may begin cooling.
"I don't agree," Barry Sternlicht, chairman and CEO of Starwood Capital Group, told CNBC a day later. Sternlicht pointed to strong regional economies in places like the Bay Area as one reason he thinks housing demand and price growth are sustainable. Rising rents are another factor in the equation, making the prospect of homeownership more appealing to many.
"It's cheaper to buy a house and finance it than it is to rent in many markets," Sternlicht said.
---
RISING MORTGAGE RATES STIFLE DEMAND
The uptick in mortgage rates over the past few weeks has led to a decline in applications, according to the most recent weekly survey from the Mortgage Bankers Association.
"Mortgage rates increased to their highest level since the beginning of the year last week, and application volume dropped sharply as a result, particularly for refinances," Mike Fratantoni, MBA's chief economist, said in a statement. The organization says that loan application volume dropped 13.2 percent from the previous week.
According to the latest data from Freddie Mac, mortgage rates rose for the second consecutive week, climbing to 3.76 percent as of Feb. 19. Despite the recent gains, rates are still almost as low as they were nearly two years ago.
(Photo: Flickr/The Shopping Sherpa)