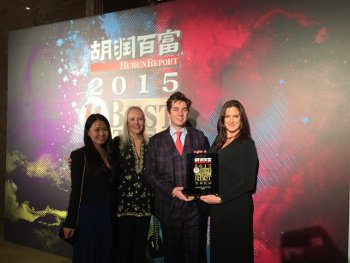 Pacific Union is thrilled to announce that we've been honored as "Best San Francisco Bay Area Luxury Real Estate Agency" by Hurun Report, a respected and influential publication that targets high-net-worth individuals in China.
At a Jan. 29 ceremony at the Pudong Ritz Carlton in Shanghai, Pacific Union Vice President of Marketing Jessica Frushtick personally accepted the award from Hurun Report Chairman and Chief Researcher Rupert Hoogewerf. Also in attendance at the gala were Elizabeth Harrington, North American publisher of Hurun Report, and Pacific Union's dedicated China Concierge Cathy Li.
Based on the results of Hurun Report's Chinese Luxury Survey 2015, our firm earned the honor for our China Concierge program, a white-glove initiative that helps homebuyers from China purchase properties throughout Northern California. Through two Mandarin-speaking staff members based in Beijing and Shanghai, Chinese buyers can connect with a Pacific Union real estate professional to identify luxury properties, get advice on financing, learn more about local schools, and obtain immigration assistance.
Pacific Union officially launched its China Concierge program in early 2013, after company CEO Mark A. McLaughlin became inspired by a presentation about the growing impact of Chinese investors on the U.S. real estate market.
McLaughlin — one of just 10 U.S. corporate executives invited to attend an exclusive meeting by former U.S. Ambassador to China Gary Locke in December 2013 — expressed his deep appreciation for the Hurun Report honor and stressed Pacific Union's commitment to offering Chinese homebuyers the highest level of service.
"I am both humbled and truly grateful for this prestigious honor and our acceptance as a brand by our valued clients in China," McLaughlin said. "Pacific Union's entire team of real estate and marketing professionals is dedicated to providing these clients with extraordinary service as they seek to purchase a home in the beautiful San Francisco Bay Area region."
In May of last year, Pacific Union launched both Mandarin and English websites hosted on Chinese servers to better allow clients in the country to access property listings and information. We also offer a Mandarin-language version of our exclusive San Francisco Bay Area Real Estate Outlook 2017, which we unveiled in a live presentation last November.
Over the past year, Pacific Union's China Concierge program has attracted the attention of prominent media outlets, including San Francisco Business Times, San Francisco Chronicle, San Jose Mercury News, and Bay Area TV station KPIX. Most recently, the initiative was mentioned by radio show The Takeaway, which dedicated an episode to foreign investment in the San Francisco and New York City real estate markets.