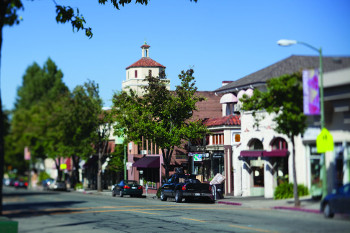 East Bay home shoppers who place a walkable neighborhood high on their list of must-haves should investigate charming, centrally located Piedmont Avenue, home to one of Oakland's liveliest and most eclectic business districts.
Adjacent to the small city of Piedmont to the east, the neighborhood is bounded by Interstate 580 to the south, Broadway to the west, and Mountain View Cemetery to the north. Residents who commute to San Francisco can opt for several forms of public transportation, including AC Transit, which offers trans-bay service during peak weekday commute times via the C bus line. The MacArthur BART station is about a mile to the west, while a casual carpool stop at the intersection of Oakland Avenue and Monte Vista Avenue presents another option.
Perhaps the neighborhood's biggest draw is that virtually everything one could ever need is accessible on foot. Walk Score, an online service that ranks neighborhoods based on amenities within a quarter-mile distance, gives Piedmont Avenue a 93 out of a possible 100, which it deems a "walker's paradise."
The dense and busy stretch of Piedmont Avenue between MacArthur Boulevard and Pleasant Valley Avenue packs dozens of shops and restaurants in less than a mile. Shops along the strip specialize in a wide variety of items — antiques, clothing, bicycles, board games, and everything in between.
Several neighborhood institutions hearken back to Oakland's past, including Piedmont Grocery, which has served Piedmont Avenue locals since the early 1900s. Fentons Creamery & Restaurant has been doing business in the neighborhood for more than 50 years and is known for its handmade ice cream and classic American comfort food. Opened in 1917, the four-screen Landmark Piedmont Theater is Oakland's oldest operating movie theater and shows both blockbuster and independent films.
Restaurants in the neighborhood serve a wide variety of cuisine from around the globe and range from inexpensive options like Baja Taqueria to the upscale, Michelin-starred Commis. On the third Thursday of each month, neighborhood restaurateurs and business owners host the Piedmont Avenue Stroll, which offers free art exhibits and musical performances.
Most homes in the neighborhood are situated on side streets that branch off from the main commercial strip and range from Craftsman-style bungalows to newer, custom-built properties. According to MLS data, the median sales price for a single-family home in Oakland's 94611 ZIP code – which includes Piedmont Avenue and several other neighborhoods – was $1,075,000 in January, a year-over-year increase of 29 percent and a two-year high.