Here's a look at recent news of interest to homebuyers, home sellers, and the home-curious: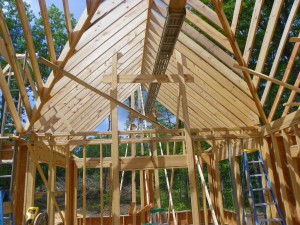 NEW-HOME CONSTRUCTION BOOMING
The new-home market showed signs of strong growth in August, with builders starting construction on more single-family homes and building permits soaring to a five-year high.
The United States Census Bureau said last week that construction starts on single-family homes in August were up 7 percent from July and 16.9 percent from a year ago, reaching their highest point in six months.
Construction activity was strongest in Western states — up 17.5 percent from July and 35.8 percent from August 2012.
August building permits for single-family homes nationwide rose 3 percent from July and 20.6 percent from a year ago, reaching their highest level since May 2008. In Western states, permits increased 5.3 percent from July and 21.7 percent from a year ago.
---
U.S. EXISTING-HOME SALES REACH SIX-YEAR PEAK
Existing-home sales nationwide reached their highest level in more than six years in August, up 13.2 percent from a year ago, the National Association of Realtors reported.
Sales are at the highest pace since February 2007 and have remained above year-ago levels for the past 26 months.
"Rising mortgage interest rates pushed more buyers to close deals, but monthly sales are likely to be uneven in the months ahead from several market frictions," said NAR Chief Economist Lawrence Yun in a statement. "Tight inventory is limiting choices in many areas, higher mortgage interest rates mean affordability isn't as favorable as it was, and restrictive mortgage lending standards are keeping some otherwise qualified buyers from completing a purchase."
---
SOLAR PANELS: 'THE NEXT GRANITE COUNTERTOP'
Solar rooftop panels are becoming a standard option in new-home construction, with a recent Bloomberg article calling them "the next granite countertop."
At least six of the 10 largest U.S. homebuilders include photovoltaic energy-generating devices in new constructions, according to the Bloomberg article, and demand for the systems is expected to jump 56 percent nationwide this year.
An added incentive: Installing the panels during construction is about 20 percent cheaper than after a house is built.
The article notes that Sonoma County's Sebastopol is one of two California cities that mandate solar panels in newly built homes.
---
LOANS FOR ENERGY-EFFICIENT HOMES
The California Public Utilities Commission has signed off on a loan program for low- and moderate-income Californians that would allow them to finance energy-saving home improvements through local banks and pay off the loans with their utility bills.
The loans would fund energy improvements such as insulation, weatherization, and efficient appliances — but not solar-power installations.
(Photo: Flickr/J. Stephen Conn)