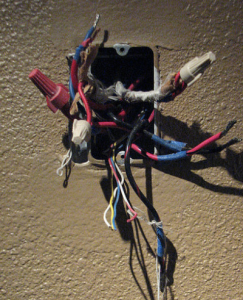 The scariest thing in your home isn't the slasher flick on your television screen. It's mostly hidden from view, and there's no question of its deadly potential.
We're talking about electrical hazards caused by faulty wiring.
The U.S. Consumer Product Safety Commission says faulty electrical wiring is responsible for an estimated 46,000 house fires and 440 deaths each year.
Your home's electrical system can wear out like any other part. But unlike kitchen cabinets and outdoor siding, the wiring behind your home's walls is rarely seen, allowing hazards to develop unnoticed.
According to the CPSC, it's not uncommon for homes built 40 to 100 years ago to have never been inspected by a electrical contractor since the first occupants moved in. That's trouble waiting to happen.
The agency recommends that a licensed contractor examine wiring in any home 40 years or older unless there is evidence of a recent inspection. (Look inside the door of your home's electrical panel.)
For homes 10 to 40 years old, an inspection is advisable, especially if today's modern electronics draw a heavy load or you detect signs of impending trouble (see below). Homes less than 10 years old should be OK, unless temporary wiring has been added or warning signs are evident.
Warning signs include frequent power outages, flickering lights, sparks at power outlets or anywhere in the electrical system, electrical shocks, overheated switch plates or plugs, or an odor of burnt wires or insulation.
The CPSC has a downloadable 36-page Guide to Home Wiring Hazards to help you find electrical dangers in your home before they cause fires or electrical shocks. It's one of more than two dozen home safety guides and alerts available on the CPSC website.
(Photo: Flickr/Linsey T)