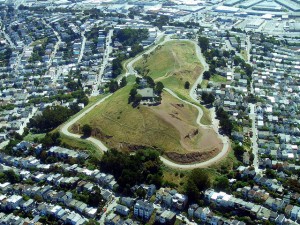 Here's a look at recent news of interest to homebuyers, home sellers, and the home-curious:
BERNAL HEIGHTS NAMED NATION'S HOTTEST 'HOOD
San Francisco's Bernal Heights neighborhood is hot, hot, hot, a new Redfin report says.
The brokerage's Real Estate Neighborhoods to Watch in 2014 report named Bernal Heights' North Slope the nation's "hottest" neighborhood – and we're not talking weather here. Bernal may enjoy some of the warmest temperatures in the city, but it was, after all, competing against neighborhoods in Austin, Texas and Las Vegas.
To obtain the results, Redfin ranked desirable neighborhoods around the country based on which homes its online users selected as "favorites," along with insights from real estate professionals. While staples like good schools and proximity to parks continued to attract buyers, "the real trend in 2014 neighborhood popularity is a short commute at an affordable price," Redfin said.
---
CONDO PRICES WAY UP ON THE WEST COAST
West Coast condos are in serious demand, particularly in San Francisco, the Wall Street Journal reports.
In December condominium prices were up 18 percent year over year in San Francisco and downtown Los Angeles and 15 percent in Seattle, the newspaper said. Meanwhile, the supply of new condos for sale fell more than 50 percent in both California cities.
The report comes on the heels of news that a condo in San Francisco's South Beach neighborhood sold for a record-busting $2,500 per square foot.
---
HOMEBUILDER CONFIDENCE FALLS
U.S. homebuilder confidence fell modestly in January from a month earlier, according to a monthly report.
The National Association of Home Builders/Wells Fargo Housing Market Index slipped one point from December, coming in at 56 this month. However, the news is nonetheless upbeat since any figure above 50 indicates that more builders than not believe the market remains robust.
"Rising home prices, historically low mortgage rates and significant pent-up demand will drive a continuing, gradual recovery in the year ahead," David Crowe, the association's chief economist, said in a statement. "However, the pace of the recovery could be stronger were it not for rising construction costs and inaccurate appraisals that are keeping some home sales from going through."
---
MORTGAGE RATES DOWN
Here's some good news for homebuyers: Mortgage rates are falling again.
On Thursday, Freddie Mac said the average rate for a 30-year, fixed-rate mortgage declined to 4.41 percent, compared with 4.51 percent a week earlier.
The lower rates seem to be spurring more buying activity, with U.S. mortgage applications jumping a solid 12 percent, the Los Angeles Times reports.
(Photo: Flickr/Todd Lappin)