Here's a look at recent news of interest to homebuyers, home sellers, and the home-curious:
INVENTORY UP ACROSS THE BAY AREA IN APRIL
We have some welcome news for Bay Area home hunters struggling with tight inventory conditions: The number of homes on the market in our region in April increased from the previous month — and substantially so in Santa Clara County.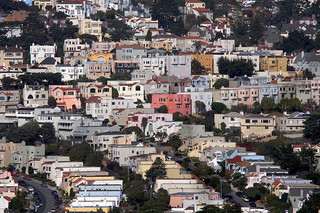 The National Association of Realtors' latest monthly housing summary says 2,371 single-family homes were for sale in San Jose in April, a gain of 17.2 percent from March. Monthly inventory increased by 10.6 percent in Oakland and 8.3 percent in San Francisco.
On an annual basis, inventory patterns were less consistent, with Oakland showing gains of 47.2 percent and San Francisco posting losses of 10.3 percent.
All three Bay Area markets placed in the top 10 for highest list price, with San Francisco leading the nation at $879,000. San Jose was No. 3, at $709,500, while Oakland ranked sixth, at $499,950. Still, list prices in those regions showed smaller month-over-month increases than the national average of 3.8 percent.
---
HOUSING-AFFORDABILITY GAP WIDENS IN SAN FRANCISCO
Although nearly two-thirds of homes on the market in the first quarter were in reach of Americans with a median income, San Franciscans weren't so lucky, according to a recent CNNMoney article.
Currently, San Francisco households earning the median income of $100,000 can afford just 13 percent of homes on the market, down from 29 percent in 2013. While San Jose was more than twice as affordable as its neighbor to the north, CNN still ranked it as the fifth least-affordable market in the U.S.
The article notes that densely populated cities like San Francisco usually get more expensive because there is little room to build new housing stock.
---
MORTGAGE RATES HIT SEVEN-MONTH LOW
Declining mortgage rates could boost home sales in the coming month, economist Robert Shiller told CNBC last week in an interview.
Citing Freddie Mac statistics, an article in The Wall Street Journal says the average 30-year mortgage rate was 4.14 percent for the week ending May 22, the lowest levels observed since last October. Since the beginning of the year, mortgage rates have dropped nearly one-third of a percentage point.
"These declines matter," Shiller said in the interview. "That's getting back down there and that might stimulate the market."
---
STATE SENATE SHOOTS DOWN PROPOSED ELLIS ACT REFORM
As we noted in an April 14 blog post, changes to the Ellis Act proposed by San Francisco politicians were likely to encounter hurdles in the legislature. In what comes as a blow for the city's tenants, the California Senate rejected the bill by one vote on May 28, according to an SFGate blog post.
The bill, introduced by Sen. Mark Leno, would require landlords to own a building for a minimum of five years before they could evict tenants under the Ellis Act. SFGate says more than 75 local tech companies — including Twitter and salesforce.com — backed the legislation.
Earlier this year, San Francisco Assemblyman Tom Ammiano authored a bill that would have allowed the city to place a moratorium on Ellis Act evictions, but it too was rejected by lawmakers.
(Photo: Flickr/Marcin Wichary)