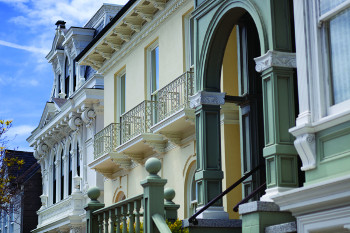 Last month we crunched the numbers and found that luxury-home sales volumes grew by double-digit percentage points in the first quarter across Pacific Union's nine Northern California regions. Now, a report from Redfin shows that three Bay Area regions are leading the nation in high-end home sales growth this year.
Redfin's 2014 Luxury Report, which defines luxury homes as those in the most expensive 1 percent of properties, ranks Oakland as the top U.S. market for luxury sales-volume growth through April, with a gain of 96.2 percent. San Jose placed No. 2, with luxury sales increases of 91.2 percent, followed by San Francisco, at 72.2 percent. Across all of the U.S. metro areas included in the study, high-end home sales were up 21.1 percent in the first four months of 2014.
Luxury sales gains in the Bay Area were even more impressive given the flat to negative growth observed in the remaining 99 percent of the market. Nonluxury sales increased by 2.2 percent in Oakland through April, while declining by 1.9 percent in San Francisco and 7.3 percent in San Jose.
Redfin's study also found that San Francisco had the most expensive luxury-home prices in the country. San Francisco buyers would need to shell out $5.35 million to afford the minimum-priced luxury home — not to mention earn $916,000 per year. That translates to a monthly mortgage payment of more than $21,000, assuming a 30-year, fixed-rate loan.
San Jose ranked fourth in the country for highest minimum luxury-home price: $3.38 million. With a minimum price of $2.1 million, Oakland just missed the top 10 but still bested the national average of $1.66 million.
San Francisco and San Jose also placed among the top 10 markets with the highest percentage of all-cash luxury sales, 55.7 and 48.8 percent respectively.
So in which Bay Area neighborhoods can buyers expect to pay the most for a top-end home? In San Francisco, tony Presidio Heights — where the average luxury home costs $7.5 million – leads the pack. Two other San Francisco neighborhoods also ranked among the 10 priciest luxury enclaves in the U.S.: Pacific Heights ($7.2 million) and Russian Hill ($6.5 million).
In the San Jose region, Old Palo Alto is the most expensive luxury neighborhood, with the average home commanding $4.7 million. Unsurprisingly, real estate classified ads website operator Movoto just named Palo Alto the second wealthiest small city in the U.S.
Meanwhile, the small city of Piedmont boasted the largest luxury prices in the Oakland metro area, at $2.6 million.