Here's a look at recent news of interest to homebuyers, home sellers, and the home-curious:
TOP-RATED SCHOOLS BOOST HOME PRICES $50 PER SQUARE FOOT
Forget the cost of private schools: U.S. homebuyers who seek a stellar public education for their children pay an average of $50 more per square foot for houses in top-ranking school districts versus those in average school districts, according to a recent study by Redfin.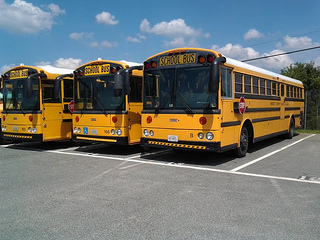 Of the 27 U.S. markets included in the study, the top five areas where buyers paid the largest average premiums for top-performing public elementary schools were all in California.
San Jose ranked No. 1 on the list, with buyers forking over nearly $500,000 on top of the median sales price to obtain access to coveted schools. San Francisco placed second, followed by Los Angeles, Ventura, and San Diego.
However, Redfin's study found that parents don't necessarily need to break the bank to ensure their children get an excellent education. For instance, buyers in the San Jose area can save almost 44 percent by purchasing a home in the vicinity of highly-ranked Meyerholz Elementary School as opposed to one located in a top-ranked school district.
---
MORTGAGE RATES DROP DUE TO FEDERAL RESERVE DECISION
Thirty-year fixed-rate mortgages fell to 4.32 percent last week, the lowest they have been since late July.
Though mortgage rates are still up from a year ago, when they were at 3.40, they dropped 0.18 percent from the previous week. According to Freddie Mac Vice President and Chief Economist Frank Nothaft, the Federal Reserve's recent decision to continue purchasing mortgage-backed securities is the cause of the rate decrease.
"Mortgage rates fell following the Federal Reserve announcement that it will maintain its bond buying stimulus," said Nothaft. "These low rates should somewhat offset the house price gains seen the last number of months and keep housing affordability elevated."
---
CALIFORNIA EQUITY SALES HIGHEST IN NEARLY SIX YEARS
In August, equity sales in California reached their highest levels since November 2007, as more underwater homeowners resurfaced.
According to the California Association of Realtors, equity sales have increased on a monthly basis for 18 of the past 19 months and now account for nearly 85 percent of transactions in the state. Of the seven California counties included in the list that posted single-digit distressed-sale percentages in August, five of them were in the Bay Area.
San Mateo County had the fewest percentage of distressed sales on CAR's list, at 3 percent, followed by Santa Clara County at 4 percent. Other Bay Area counties with single-digit distressed-sale percentages include Contra Costa (6 percent), Alameda (7 percent), and Marin (8 percent).
---
U.S. PENDING HOME SALES SLIDE FOR THIRD STRAIGHT MONTH
The U.S. Pending Home Sales Index has declined for the third consecutive month, according to data released by the National Association of Realtors.
Pending home sales slipped 1.6 percent from July but are still up 5.8 percent from August 2012. The index fell to 107.7 in August, down from 109.4 the previous month. Still, pending sales have shown year-over-year improvements for the past 28 months.
According to NAR Chief Economist Lawrence Yun, the decline was not surprising given the flurry of activity earlier in the year.
"Sharply rising mortgage interest rates in the spring motivated buyers to make purchase decisions, culminating in a six-and-a-half-year peak for sales that were finalized last month," said Yun.
(Image: Flickr/G Marshall)