Bay Area tourists almost invariably flock to San Francisco landmarks like the Golden Gate Bridge and Lombard Street, but locals know that there is no shortage of fantastic things do just on the other side of the bay.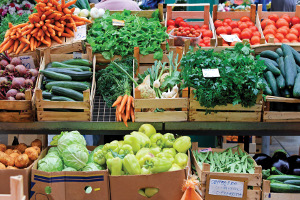 This coming weekend marks Oakland's annual Oaktoberfest, an outdoor celebration held in the Dimond neighborhood that features local beer, wine, and food. But Pacific Union's East Bay region is also home to plenty of other attractions that residents, visitors, and families can enjoy year-round, including an acclaimed farmers' market, spacious regional parks, and a highly regarded concert venue.
If you're looking for activities to round out an upcoming weekend and want to avoid San Francisco's crowds, hit up some of our real estate professionals' favorite East Bay spots.
Shoppers can browse fruits, vegetables, baked goods, meats and fish, flowers, and much more. Parking can be brutal, but it's so worth it.
Address: Grand Avenue and Lake Park Avenue, Oakland
This scenic lookout marks the start of the paved, stroller-friendly Nimitz Trail, an easy "hike" with shady spots. Tilden Park is great for both family fun or impressing visitors with views.
Address: 1000 Wildcat Canyon Rd., Berkeley
Kill two birds with one stone: Entertain the kids in the hands-on science museum, then soak in the glorious panoramic view from the East Bay to San Francisco and Marin.
Address: 1 Centennial Dr., #5200, Berkeley
This venue boasts an intimate space and books a hugely diverse lineup of performers. Music runs the gamut from reggae to hip-hop to brass bands to funk to dancehall.
Address: 579 18th St., Oakland
If you love your brew, this festival is for you. Great food (and drink), a family-friendly community vibe, plus local beers get their day in the sun.
Address: MacArthur Boulevard and Fruitvale Avenue, Oakland
Each drink is brewed individually and unfailingly delicious. (Don't like it? They'll fix it.) And yes, the mint mojito iced coffee is just as good as everyone says.
Address: 1600 Shattuck Ave., Berkeley
Point Isabel
This 23-acre, bayside, off-leash park is a favorite for dogs; the views are a treat for owners, too. Tip: Enjoy the free hoses after a romp – dogs can get muddy!
Address: 1701 Isabel St., Richmond
Little ones love this working farm where they're allowed to pet (and feed!) goats, cows, sheep, and other animals.
Address: Central Park Dr., Berkeley