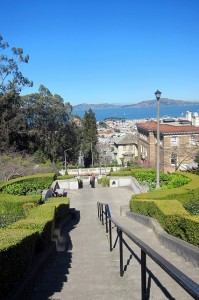 Presidio Heights has some of San Francisco's largest homes, on enviably ­private and quiet lots. Add that to sweeping views, great neighborhood shopping and dining, and easy access to the Presidio, and it's clear why the area remains among the most expensive in the city.
"Presidio Heights is one of the least-dense neighborhoods in San Francisco with some of the largest homes," said Patrick Barber, president of Pacific Union International's San Francisco region. "It has close proximity to the Presidio and great walk scores to Laurel Village and Fillmore Street."
The neighborhood boundaries run east-west from Presidio Avenue to Arguello Boulevard, and north-south from Pacific Avenue to California Street.
Most Presidio Heights homes for sale date from the early 1900s to the 1930s and are primarily Edwardian in style. Prices for condominiums and single-family residences range from $900,000 to well over $10 million.
Earlier this month, a six-bedroom home at 3524 Jackson St. sold for $12.5 million, and in 2005 former Gap CEO Mickey Drexler sold his Willis Polk-designed home for an undisclosed sum after listing it for $27 million.
In addition to its gracious, large homes, Presidio Heights offers residents easy access to numerous stores and restaurants in the Sacramento and Fillmore shopping districts and at Laurel Village, home to high-end grocery stores Cal-Mart and Bryan's Grocery, Noah's New York Bagels, Books Inc., and Rigolo Cafe & Restaurant.
Other neighborhood favorites include Garibaldi's Restaurant, elegant eatery Spruce, popular brunch spot Magic Flute Garden Ristorante, and Yoko's Designs in Flowers and Plantings. To catch a movie, head to the Vogue Theatre at Sacramento and Presidio or the Clay Theatre on Fillmore Street.
Julius Kahn Playground & Clubhouse at Jackson and Spruce offers two play structures, a sand pit, tennis courts, and soccer and baseball fields. Located at Clay and Walnut streets, the Presidio Heights Playground recently underwent a significant renovation thanks to a community group.
For families with children, many excellent schools are located nearby including San Francisco University High School, the Drew School, Town School for Boys, the Hamlin School, and Stuart Hall & Convent of the Sacred Heart.
To take in one of the most spectacular views in the city, head to the Lyon Street steps at Pacific and Lyon, which overlook the Palace of Fine Arts, the ocean, and beyond.
"Homes with the best views are probably in the 3700 block of Washington Street," Barber said. "Jackson Street and Pacific Avenue have views looking over and into the Presidio."
(Photo of the Lyon Street steps by Wallyg, via Flickr.)