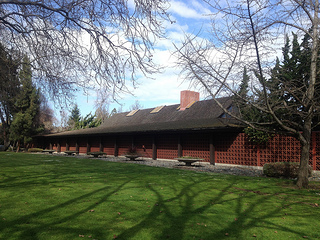 Access to top-performing schools and a bounty of indoor and outdoor activities for children make Palo Alto's centrally located Community Center neighborhood popular with local families.
The neighborhood surrounds its namesake Lucie Stern Community Center and is bordered by Middlefield Road to the west, Channing Avenue to the north, Newell Road to the east, and Embarcadero Road to the south. The latter provides direct access to Highway 101, convenient for residents who commute by car.
Excellent public schools are perhaps the primary draw to the Community Center neighborhood, one of Pacific Union's top Palo Alto real estate professionals says. In 2013, Addison Elementary School scored a 947 of a possible 1,000 on California's Academic Performance Index, while Walter Hays Elementary School scored 934. Additionally, both public high schools operated by the Palo Alto Unified School District were recently ranked among the top 30 in the U.S. for academics by education content provider Niche.com.
The Community Center neighborhood also draws families because of its cultural and recreational activities for children, all of which are within walking distance from most homes in the area. The Palo Alto Junior Museum and Zoo hosts exhibits designed to foster interest in science and nature, the Palo Alto Children's Theater offers a range of music and theater classes for youths of all ages, and the Palo Alto Art Center teaches visual-arts courses for both children and adults.
Adjacent to the art center is the newly renovated Rinconada Library, which reopened earlier this year and was formerly known as the Main Library. A few blocks away is the Palo Alto Children's Library, which offers reading materials specifically for kids grade five and younger.
For outdoor fun, neighborhood families head to 19-acre Rinconada Park, which features several playgrounds, two swimming pools, and tennis courts. Many neighborhood children participate in the Palo Alto Swim Club, a year-round aquatics team that holds events at the Rinconada Pool.
Although Community Center is primarily a residential neighborhood, it's only about a mile from downtown Palo Alto, home to dozens of restaurants and shops as well as one of the city's two Caltrain stations. Homes in the neighborhood sit on quiet, tree-lined streets and range from small bungalows built in the 1950s to spacious, custom homes that have recently been constructed.
As is the case in other Palo Alto neighborhoods, buyer demand is high and inventory remains low. Over the past year, the months' supply of inventory for single-family homes in the Community Center neighborhood has never exceeded 1.5, according to MLS data, meaning that the market heavily favors sellers. In the first quarter of this year, only one home in the neighborhood changed hands.
Over the past year, the median sales price for a Community Center home has averaged $3.12 million, with overbids commonplace. Since April 2014, the average neighborhood homebuyer has paid 15.1 percent more than original price, compared with average 8.9 percent premiums recorded in all of Palo Alto in that same period.
(Photo: Flickr/Alan Cordova)