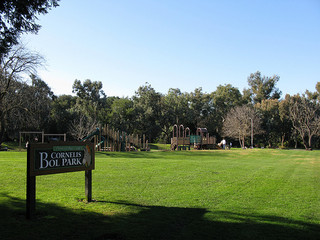 With access to some of Palo Alto's top-performing schools, the Barron Park neighborhood will appeal to families seeking a quiet place to call home.
Situated in Palo Alto's southwestern corner, Barron Park is roughly bordered by Matadero Avenue to the north, El Camino Real to the east, Georgia Avenue to the south, and the VA Palo Alto Health Care System campus to the west. Page Mill Road, located near the neighborhood's northern boundary, provides direct access to Interstate 280.
Some of Palo Alto's top employers also have offices along Page Mill Road, including numerous law firms and investment banks. Computer giant Hewlett-Packard, one of the city's largest employers, has its corporate headquarters just of north of Barron Park on Hanover Street. Other tech companies such as Skype also have offices nearby.
Residents who prefer to commute by public transportation can hop on Caltrain at the California Avenue station, located less than two miles away. South California Avenue, long the city's second downtown to University Avenue, is home to a thriving commercial strip with dozens of shops and restaurants and is undergoing a streetscape project to improve its walkability.
Located on South California, Cuban establishment La Bodeguita del Medio was recently named best lounge in the city by Palo Alto Weekly's 2014 best-of list. Nearby Joanie's Café was awarded best breakfast in Palo Alto, a distinction it has earned numerous times in the past. Su Hong Eatery, a casual Chinese restaurant not far away on El Camino Real, is also popular with neighborhood residents.
Besides its favorable location, Barron Park attracts Palo Alto homebuyers due to its excellent public schools. Juana Briones Elementary School scored a 942 of a possible 1,000 on the 2013 California Academic Performance Index. Terman Middle School, which reopened in 1999 to accommodate a growing student population, took home an API score of 968.
Henry M. Gunn High School was named among the top 20 high schools in California by U.S. News and World Report in 2014. According to one of Pacific Union's top Palo Alto real estate professionals, the closer a home in the neighborhood is to the high school, the more desirable it is to buyers – meaning it will sell faster and for a higher price.
Families will also appreciate that the neighborhood offers several nearby outdoor spots for children to play, including Bol Park and Briones Park. Both parks have playgrounds, and a 1.2-mile bicycle path that runs through the Bol Park offers a pleasant setting for taking a ride free from traffic concerns. Just south of Bol Park live the Barron Park Donkeys, a pair of equines that visit children in the park each Sunday.
Annexed by the city nearly 40 years ago, Barron Park voted to preserve its rural flavor by opting to forgo sidewalks – a sharp contrast to other parts of Palo Alo. Homes in the neighborhood sit along tree-lined streets and range from smaller cottages built in the mid-20th century to expansive, brand-new properties. Many neighborhood lots are quite large, with some in excess of 9,000 square feet.
In September, the median sales price for a single-family home in Barron Park was $2.7 million, up 84 percent on an annual basis. In a trend that has persisted throughout Palo Alto for most of the past two years, homes in Barron Park usually sell for above original price. In September successful buyers in the neighborhood tacked on an average of 12 percent more than asking price.
(Image: Flickr/Marcel Marchon)