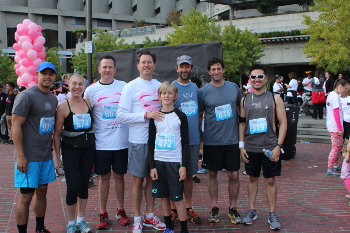 Pacific Union is pleased to share the news that for the third consecutive year our firm assembled the fastest and largest team in the annual Susan G. Komen Race for the Cure, doing our own small part to help eradicate breast cancer.
On the morning of Sept. 28, 174 of our real estate professionals, staff members, and their families came out to run or walk the 3.1-mile route along San Francisco's waterfront, the third year in a row that we've had the largest race team. Also for the third straight year, Pacific Union had the fastest overall team race time, at 1:42:24, more than three minutes ahead of the next-closest team.
But most importantly, our firm raised a substantial amount of money for the Susan G. Komen organization, which has been funding research to fight breast cancer for more than 30 years. Team member Carol Solfanelli of San Francisco turned in a particularly impressive fundraising effort, receiving more than $3,500 in donations.
We're extremely proud of our entire team for their participation, and we'd like to recognize four members for demonstrating our firm's core principle of elite performance by finishing in the race's top 20.
Ky Faubion of San Francisco placed first in the race, beating the other nearly 450 timed runners to the finish line in 18:13. With a race time of 19:45, San Francisco's Blake Pearson placed seventh, up three slots from last year. San Francisco's Jason Hoffman finished 11th, coming in at 20:35, while Mill Valley's Scott Kalmbach was 15th, with a time of 20:52.
Pacific Union President and team captain Patrick Barber thanked the entire group for their efforts and congratulated our firm's top-20 finishers. He urged his team and the entire crowd to make the fight against breast cancer a year-round affair.
"Don't let this be the only day of the year that you do something for breast cancer," Barber said. "We need you. One person can make a huge difference in helping to end this disease once and for all."