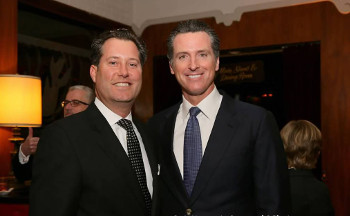 We wish to extend hearty congratulations to Pacific Union President Patrick Barber, who was officially installed as president of the San Francisco Association of Realtors (SFAR) last week.
The swearing-in ceremony and celebratory dinner were held Jan. 9 at Bimbo's 365 Club in San Francisco's historic North Beach neighborhood. More than 400 real estate professionals and industry luminaries attended the ceremony, as did California Lt. Gov. Gavin Newsom and San Francisco District 8 Supervisor Scott Weiner.
"I have been fortunate enough to spend most of my career in San Francisco real estate," Barber told the crowd in his installation speech, in which he stressed unity amongst the city's real estate professionals regardless of broker affiliation. "Now, I am honored to serve as president of this association."
The installation was the latest career milestone for Barber, a native San Franciscan with more than two decades of experience in the city's real estate industry, giving him unique knowledge and perspective that few other Bay Area real estate executives possess. A member of SFAR since 1989, Barber joined Pacific Union in 2010 as president of the company's San Francisco region. In 2014, he was promoted to president of the entire company based on his abilities to recruit, develop, and retain San Francisco's most elite real estate professionals and grow company revenues.
Over the coming year, Barber will apply his leadership talents to pursuing SFAR's strategy through 2018, including expanding technology offerings to members and continuing political advocacy efforts for the real estate industry.
"The San Francisco Association of Realtors is committed to promoting property ownership and working with the city to help solve the affordability and availability issues we face together," Barber says. "I very much look forward to working closely with SFAR's amazingly talented pool of real estate professionals in the coming months."
(Photo courtesy of Frank Jang)