Pacific Union is excited to share the news that we've just launched a brand-new website optimized for use on mobile devices, one more way we're committed to delivering the most extraordinary level of service to our elite team of Northern California real estate professionals and their valued clients.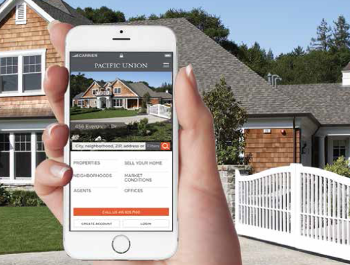 Developed in partnership with Boston Logic Technology Partners Inc., Epsilon Data Management, and 1000watt, the completely revamped website comes as a response to the growing number of Pacific Union clients that are using their smartphones to search for a Bay Area home and research local communities. As of early this year, nearly one-third of our website visitors originate from a smartphone or a tablet device, and we recognize the importance of giving them the best experience possible.
"We know that our clients are migrating from searching for real estate on their desktop computers to tablets and now to mobile devices," Pacific Union CEO Mark A. McLaughlin said. "With our new website, optimized for the mobile experience, our clients have up-to-the-minute information about listings and market conditions on the go. This latest evolution underscores Pacific Union's dedication to leverage the latest technology to provide our real estate professionals and their clients with the highest level of service."
The new website also boasts a significantly enhanced visual appearance and user interface, making it easier than ever for Pacific Union clients to access current property listings, keep up to date on sales trends, read our expert local content, and contact one of our expert real estate professionals. Bay Area homebuyers can visit our website to access MLS sales data for 130-plus local communities — updated daily — as well as neighborhood-level content that offers insight into what life in a particular community is like.
The website launch comes two years after Pacific Union unveiled our Digital Listing Presentation (DLP), a first-of-its-kind, custom Web and iPad application that enables our real estate professionals to easily create property presentations that homebuyers and sellers can browse on a tablet computer. In April 2014, the Web Marketing Association named our DLP as Best Real Estate Interactive Application.