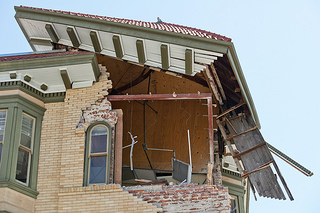 The 6.0-magnitude earthquake that awoke Napa County residents in the early-morning hours of Sunday, Aug. 24, left most residents a bit shaken up and inflicted considerable damage to commercial buildings in downtown Napa. The earthquake also dealt a blow to some homeowners, with residential properties, including some Victorian homes near downtown, sustaining damage.
But nearly two months later — even with some homes on the city's western side still uninhabitable and an estimated $300 million in damages — the temblor appears to have had almost no negative impact on the Wine Country's real estate market.
"It seems to have affected the buyers hardly at all," says Linda Carroll, regional executive for Pacific Union's Napa County region. "Buyers are plentiful – this was the case before August 24, and it's still the case today."
The same holds true in our Sonoma Valley region, according to Regional Executive Jill Silvas. She notes that although some homeowners had their swimming-pool covers wrecked, the earthquake hasn't cooled buyer demand.
"It definitely hasn't had an effect on the market or prices," Silvas says.
Some of our top real estate professionals in Napa County believe that the earthquake could in fact have positive lasting effects on the local real estate market. One professional points out that several damaged buildings near downtown have been condemned, which will pave the way for for residential housing and commercial development.
"That could have taken another 20 years if not for the quake," he observes.
Another Napa County real estate professional says she thinks that the earthquake helped turn the national spotlight on the area and that out-of-town buyers from are still keen on purchasing homes in the region.
"We are seeing a lot of folks from out of the area trying to move here full time or buy second homes," she says.
Although many home transactions that closed in September had likely already occurred before the late August shaker, it's worth noting that sales data from last month underscores that the Napa real estate market is healthy and vibrant.
According to MLS statistics as of Oct. 13, the median sales price for a single-family home in Napa County in September was $602,000, a gain of 29 percent from September 2013 and a two-year high. Though the number of homes sold last month was down about 10 percent on an annual basis, the amount of properties under contract was up by almost the exact same.
The traditionally busy fall selling season is shaping up to be another active one in Napa County, says Carroll, and she expects momentum to continue building until the holiday season arrives — one more sign that the earthquake was just a temporary blip on the radar for Wine Country home shoppers.
(Photo: Flickr/Hitchster)