The year 2015 may go down in the record books as the year of the California homebuyer.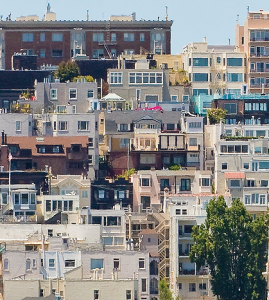 A forecast by the California Association of Realtors offers unbridled optimism for homebuyers in the coming year, predicting that the supply of available homes on the market will continue to grow, prices will flatten, and fewer investors will be bidding against "traditional homebuyers" as home sales rise modestly across the state.
The organization's 2015 California Housing Market Forecast also predicts that mortgage interest rates will remain at "historically low levels" throughout the year.
"Stringent underwriting guidelines and double-digit home price increases over the past two years have significantly impacted housing affordability in California, forcing some buyers to delay their home purchase," CAR President Kevin Brown said in a statement. "However, next year, home price gains will slow, allowing would-be buyers who have been saving for a down payment to be in a better financial position to make a home purchase."
California's rebounding economy will fuel much of the state's real estate market's growth next year, and the Bay Area will lead that charge.
"The state will continue to see a bifurcated market, with the San Francisco Bay Area outperforming other regions thanks to a more vigorous job market and tighter housing supply," CAR Vice President and Chief Economist Leslie Appleton-Young said in a statement.
Looking at the numbers, CAR said existing-home sales will rise 5.8 percent in 2015 after an expected 8.2 percent drop in 2014. Mortgage rates will rise "only slightly" to 4.5 percent. The statewide median home price is projected to rise 5.2 percent, following an expected 11.8 percent increase this year — the slowest rate of price appreciation in four years.
California's unemployment rate is projected to fall to 5.8 percent in 2015, from 6.2 percent in 2014 and 7.4 percent in 2013.
In a few weeks, Pacific Union will offer its own forecast with a new, one-of-a-kind report that will focus exclusively on the forces that will shape Bay Area real estate for the next three years.
Pacific Union has formed an exclusive partnership with John Burns Real Estate Consulting to publish the first San Francisco Bay Area Real Estate Outlook 2017, which will outline key economic attributes, risks, and variables that will drive our region's residential real estate markets — including population growth, job growth and quality, mortgage rates, and new supply of housing units.
Pacific Union CEO Mark A. McLaughlin and John Burns — president of his namesake consulting firm — will introduce the report with an exclusive presentation on Nov. 5 at the SFJAZZ Center in San Francisco. We will stream the event online via a live simulcast in both English and Mandarin and will announce further details soon.
(Image: Flickr/Greg Balzer)