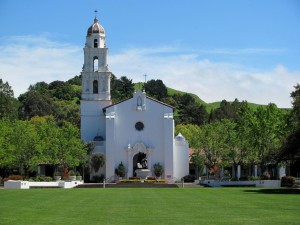 Conveniently located next to Lafayette and Orinda, the town of Moraga is home to Saint Mary's College of California, beautiful weather, and an excellent school system.
"Because it's inland, Moraga's a little warmer with less fog than neighboring communities," said Ellen Anderson, senior vice president and regional manager for Pacific Union International's Contra Costa County offices. "The other big draw to Moraga is Saint Mary's College. It's one of the oldest colleges in the West," founded in 1863.
Named after Joaquin Moraga — a grandson of Jose Joaquin Moraga, credited with founding the Presidio of San Francisco — the town of Moraga was a ranching and farming community for many years.
In fact, most of the roads, businesses, and homes in Moraga today didn't exist until after 1960.
Moraga homes for sale tend to range in price from $400,000 for less-expensive condominiums to more than $1 million for higher-end single-family homes, Anderson said. Homes at the Moraga Country Club are among the most sought-after.
The club features an 18-hole golf course, tennis courts, a 25-meter swimming pool, and a clubhouse with restaurant and bar.
In December the number of condominiums and single-family homes for sale in Moraga plummeted almost 60 percent from a year earlier, while the number of residences sold swelled from one to nine, according to MLS data.
"Inventory is very tight," Anderson said.
While many residents opt to shop and dine in nearby Orinda and Lafayette, the town of 16,000 offers a number of businesses, including those at the Rheem Valley Shopping Center. Asia Palace Restaurant, Ristorante Amoroma, and Chef Chao Restaurant are among the town's more popular eateries.
The New Rheem Theatre, built in the 1950s, offers a range of independent, documentary, and family films in a historic setting.
The town remains popular among young families for its high-ranking schools. In 2012 the Moraga School District earned an overall state Academic Performance Index score of 961 out of 1,000, while Campolindo High School received a 922.
Perhaps the only drawback to living in this lovely town with views of the rolling Contra Costa hills is its single road to the freeway, Moraga Way, Anderson said. Still, commuting should get somewhat easier for all Lamorinda residents as workers finalize improvements to the Caldecott Tunnel this year.
(Photo of the chapel at Saint Mary's College by Rocor, via Flickr.)