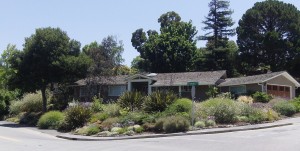 Nestled in the hills of West Menlo Park, the Sharon Heights neighborhood offers its residents a lovely respite from the hustle and bustle typical of Bay Area living — just off Sand Hill Road and a stone's throw from Interstate 280 and Stanford University.
Developers Duncan McDonald and Mark Radin began building the residential neighborhood in the 1960s. Now Sharon Heights features a variety of homes, many of them ranch-style, single-family residences, as well as townhouses, condominiums, and apartments.
Established in 1961, the Sharon Heights Golf & Country Club borders the community and features a premier golf course, pool, tennis center, and dining.
And a shopping center with a Safeway supermarket, drugstore, gas station, and popular Starbucks is located just off Sand Hill Road on Sharon Park Drive, near the SLAC National Accelerator Laboratory.
Neighborhood kids have access to several great schools, both public and private. Through eighth grade, children attend the highly ranked Las Lomitas Elementary School District, which in 2013 earned a state Academic Performance Index score of 958 out of 1,000. Menlo-Atherton, the local high school, also performed well, scoring an impressive 819.
Nearby private schools include the Phillips Brooks School, Trinity School, and Menlo School.
Want to live in this picturesque community of rolling hills and leafy trees? It'll cost you.
In November the median sale price of Sharon Heights single-family homes for sale jumped 53 percent to $2.8 million, from $1.8 million a year earlier, according to MLS data. During that same period, the number of homes on the market shot up 66.7 percent in November compared with November 2012.
"For the most part, homes are long and somewhat sizable, stretching along quiet residential streets," wrote user Bayareabound on Pacific Union's Sharon Heights neighborhood reviews page. "Properties are relatively large and bushy, with nicely trimmed landscaping making for an aesthetic community space."
(Image: Flickr/Allesandro Valli)