What amenities are most important to affluent buyers in the market for a luxury home?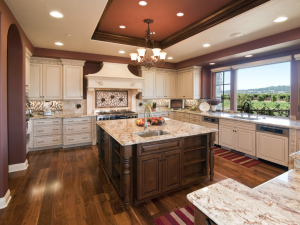 A recent survey by Realtor.com found that the most popular feature, sought by 54 percent of luxury buyers, is a spacious chef's kitchen equipped with the very finest high-end appliances and cabinets. (Granite countertops are still popular, although other materials such as glass, soapstone, and metals are the current rage.)
The second most popular feature, with 44 percent of the vote, is a sprawling view of the world beyond — ocean, mountains, or cityscape — followed by the square footage of the property (38 percent) and an expansive master suite (36 percent).
According to the survey, 13 percent of respondents said they are ready to buy a luxury home and another 26 percent are considering a high-end home purchase.
"The luxury home buyer is an important contingent of today's real estate market, as luxury homes tend to drive trends throughout the entire balance of the marketplace," Realtor.com spokeswoman Barbara O'Connor said in a statement accompanying the survey results.
"We are seeing large portions of buyers throughout the country … eyeing luxury homes," she said. "This means sellers, builders, and certainly Realtors, should all be paying particular attention to desired luxury amenities, such as chef-quality kitchens and master suite features, to close deals for them."
Forty percent of luxury buyers say the biggest challenge in searching for a high-end home is to find a property that meets their family's needs; 20 percent say it's the limited number of properties on the market.
Survey respondents in Northeast, Pacific, and Mountain states said the minimum price point for luxury housing is $1 million. In South Central, North Central and South Atlantic states, the minimum falls to $500,000.
Christie's International Real Estate's recently released 2013 Luxury Defined report found that sales volume for homes priced above $1 million jumped 62 percent year over year in San Francisco. Luxury buyers in the city paid an average of $829 per square foot, less than those in New York and Los Angeles.