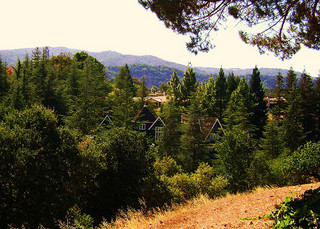 Not far from Silicon Valley's center, yet removed from it all, the tranquil town of Los Altos Hills appeals to homebuyers seeking privacy, large yards, and life amongst some of the Peninsula's most stunning natural scenery.
With just fewer than 8,000 residents, Los Altos Hills has one of the smallest populations of incorporated municipalities in Santa Clara County. Almost strictly residential, the town lacks a library and post office but does boast its own town hall.
Because of its fairly secluded location in the foothills above Los Altos, public-transportation options are limited, though the Santa Clara Valley Transportation Authority does operate a bus line that runs between Mountain View and Foothill College in Los Altos Hills. Nevertheless, Interstate 280 cuts through the center of the town, making for a convenient commute to San Francisco or other parts of Silicon Valley.
One major upside of Los Altos Hills' relative isolation is the fact that ample outdoor recreation opportunities are mere minutes away. A handful of open-space preserves — including Foothill, Los Trancos, Russian Ridge, and Skyline Ridge – lie less than a dozen miles west of the town's center and offer hikers, runners, and mountain bikers spectacular vistas of the Santa Cruz Mountains.
"The outdoors are a huge draw for residents of Los Altos Hills," one of Pacific Union's top Silicon Valley real estate professionals says. "It is a very physically active community."
Residents who want to get an outdoor workout without leaving the town's limits usually hit the Los Altos Hills Pathway System, which consists of 85 miles of trails and off-road paths that connect different small neighborhoods. The town is also home to the Fremont Hills Country Club, an invitation-only facility with an Olympic-sized swimming pool, tennis courts, and an equestrian center.
Children attend schools operated by either the Palo Alto Unified School District or the Los Altos School District, both of which performed extremely well on the state's 2013 Academic Performance Index. The former district netted a score of 932 out of 1,000, while the latter notched a 961.
Situated along winding hillside streets, some with bird's-eye views of Silicon Valley below, Los Altos Hills homes for sale come in a variety of architectural styles, including Spanish, Craftsman, and contemporary. Because of the town's zoning laws, lots are expansive, with a minimum size of one acre.
From December 2012 to December 2013, the average median sales price for a single-family home in Los Altos Hills was $2.85 million, according to MLS data. Throughout Pacific Union's Silicon Valley region, only homes in the nearby town of Atherton had a higher average median sales price in that time frame.
(Photo: Flickr/Madonovan)