Every Friday, Pacific Union International takes a look at what's new and notable in our Bay Area neighborhoods. Here's what we've got for the week ending April 27, 2012:
NAPA
Ready to test your pedal mettle and celebrate cycling? The first "Napa Bike Fest," sponsored by the Napa County Bicycle Coalition, rides into town on April 28 at the former Copia property on First Street. Highlights include Bike Swap, Kidical Mass, BMX Stunt Show, Cultural Heritage Ride, Cycling Films, and more.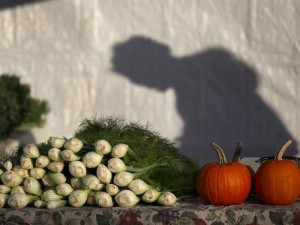 SONOMA COUNTY
A farmers market is on the move. After its lease at the Santa Rosa Veterans Memorial Building was terminated due to disputes over rising costs, the people of the Santa Rosa Original Certified Farmers Market said Thursday they will soon relocate to the south parking area of the Wells Fargo Center for the Performing Arts.
EAST BAY (ALAMEDA COUNTY  and CONTRA COSTA COUNTY)
Paint the town red!  This weekend, artists are taking over downtown Walnut Creek for the 68th Semi-Annual Fine Arts and Crafts Festival.  From North Main and Locust between Diablo Boulevard and Civic Drive, the event features the work of more than 150 professional artists from across the country.  Showcasing everything from paintings, sculpture, photography, jewelry, and more, the participants include a number of local artists.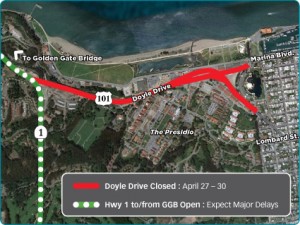 MARIN COUNTY and SAN FRANCISCO
Yes, it's true the much-mentioned Doyle Drive weekend closure (April 27 – 30) is upon us.  If you are still interested in navigating between the North and South Bay, there are options. The Golden Gate Ferry will run additional service and the Golden Gate Transit bus service will still operate certain lines.  It's certainly not a no-go situation, but it's also probably a good time to plan ahead.
(Santa Rosa Farmers Market image courtesy of pressdemocrat.com and Doyle Drive image courtesy of presidioparkway.org)