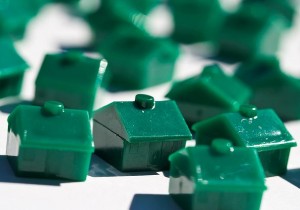 The prospects for robust real estate activity in the coming year just got a shot in the arm with a report from UCLA's business school that predicts a steady drop in unemployment across California and continued improvements in the state and national economy.
"Growth will be buoyed by a rapidly recovering housing market," wrote UCLA economist David Shulman in the highly regarded UCLA Anderson Forecast, released Wednesday. "Housing led the downturn; it is now leading the upturn."
Housing remains affordable because of low prices and mortgage rates, Shulman said, and these factors, coupled with pent-up demand, will result in more than 1 million housing starts nationwide in 2013.
Home sales are closely tied to economic conditions, and residential sales and prices have matched the Bay Area economy's remarkable recovery, starting in early 2012.
California and the nation have moved slower than the Bay Area in their recovery, but growth will accelerate over the next several years.
"The factors which have driven California employment and income growth to higher rates than the U.S. are still in play," economist Jerry Nickelsburg said in the report. "As the world economy improves, and as investment in the U.S. picks up once again, California will once again have a disproportionate share of that improvement. Our expectation is for this to occur in 2014 and to accelerate in 2015."
Employment growth is expected to remain steady through 2015, helping to push the statewide unemployment rate down to an average 9.6 percent this year, 8.4 percent in 2014, and 7.2 percent in 2015.
In the Bay Area, high-tech jobs, tourism, and international trade have kept unemployment rates among the lowest in the state, and those numbers are expected to keep falling. The unemployment rate stood at 6.5 percent in San Francisco in December and ranged from 5.5 percent in Marin County to 8.2 percent in Alameda and Contra Costa counties.
The UCLA Anderson Forecast was one of three recent reports to predict continued growth in the housing market.
The Kiplinger forecasting firm said the U.S. housing recovery is "firmly" under way, with all indicators "on the way up." Separately, the U.S. Bureau of Labor Statistics said residential construction jobs continue to multiply.
These reports follow earlier analysis predicting strong home sales in the Bay Area.
Last week Realtor.com listed the San Francisco metropolitan area among the top five places in the United States for homeowners to put their properties on the market in 2013, thanks to robust sales prices. Two weeks ago the California Association of Realtors reported a 31.1 percent sales jump in San Francisco in January.
(Photo courtesy of Woodleywonderworks, via Flickr.)