Americans are quite happy with their current housing situation, with 86 percent saying they are satisfied, according to a worldwide survey by Paris-based Organization for Economic Cooperation and Development.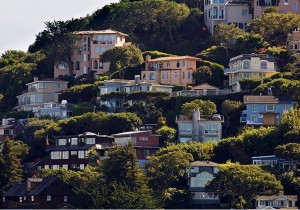 Even so, Americans' satisfaction with their housing is 1 percent less than OECD's world average of 87 percent. Nations where residents ranked themselves more satisfied included Germany, Ireland, Spain, and Belgium.
Overall, the United States placed first among 180 countries for housing conditions on OECD's Better Life Index.
The organization found that Americans spend a bit less of their income on housing — only 19 percent compared with the 21 percent OECD average — and the facilities are, on average, much nicer, with 99.9 percent of people in the United States living in dwellings with private access to an indoor flushing toilet.
Also, the United States placed fifth-lowest in terms of overcrowding, with a spacious 2.3 rooms per person.
The Better Life Index, which tracks a variety of factors that help determine a country's overall happiness, places a great deal of importance on housing.
"Living in satisfactory housing conditions is one of the most important aspects of people's lives," OECD concluded. "Housing is essential to meet basic needs, such as shelter, but it is not just a question of four walls and a roof. Housing should offer a place to sleep and rest where people feel safe and have privacy and personal space; somewhere they can raise a family. All of these elements help make a house a home."
The Better Life Index puts a global perspective on life in the United States. Another recent survey looked closer and found that people in the Bay Area are happier and more contented with their lives than residents of any other large U.S. metropolitan area.
The San Jose-Sunnyvale metro area ranked No. 1 for high well-being among its residents, according to Gallup Inc.'s "State of American Well-Being" report, and the San Francisco-Oakland metro area ranked No. 2.
(Image: Flickr/Latteda)